Asser academic director becomes a gender champion
Published 5 February 2019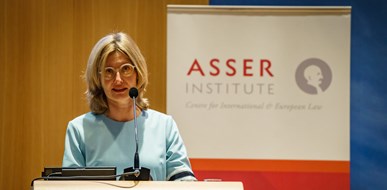 Asser's academic director and professor of History and Theory of International Law at the University of Amsterdam Janne E. Nijman has joined the brand new Hague International Gender Champions Hub, which is launched today at the International Criminal Court in The Hague. The IGC is a leadership network that brings together female and male decision-makers to break down gender barriers. 
"Gender inequality and sex discrimination profoundly impact lives across the globe. International (human rights) law can play a role in promoting and protecting gender equality in professional environments and beyond. It is important to bring a gender perspective in the conversation on international (human rights) law, as a way of advancing social justice and equality for all," says Nijman.
Becoming a member of the IGC Nijman made a pledge that calls for equal gender representation in academic panels. She has pledged to track and report on the gender composition of panels hosted at the Asser Institute, and to work towards a gender-balanced representation in both staff and panel composition.