[New publication] The Anti-ISIL coalition, civilian harm, and the obligation to investigate 
Published 11 September 2023
By James Patrick Sexton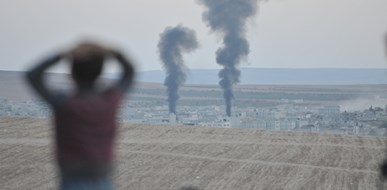 In a new blog post for Articles of War, James Patrick Sexton analyses the civilian harm caused by the military coalition established to defeat the Islamic State (ISIL). He concludes that investigations into potential violations of international humanitarian law (IHL) caused during military coalitions need to be improved to fulfil states' international legal obligations.
Between 2014 and 2019, at least twenty-nine states contributed to the military coalition to defeat ISIL, also known as Operation Inherent Resolve. ISIL, a non-state armed group and terrorist organisation, had captured large areas of territory in Syria and Iraq during 2013-2014 and perpetrated heinous acts, many of which likely amount to international crimes.
Coordinated from a military base in Qatar, the states involved in Operation Inherent Resolve carried out thousands of airstrikes on ISIL targets and in support of allied ground troops. By March 2019, ISIL's last territorial stronghold in the region had fallen. 
Allegations of civilian harm
Although Operation Inherent Resolve played a vital role in reversing ISIL's territorial gains and ending their terrible acts, allegations have been made over recent years that several states involved in the coalition, including the U.S., U.K., and the Netherlands, caused over ten thousand civilian deaths. In 2015, for example, at least eighty-five civilians were killed as the result of a Dutch airstrike on an ISIL military target in the city of Hawija, Iraq.
The obligation to investigate: More cooperation required 
States have the obligation to investigate if a violation of IHL has been allegedly caused by their military forces. However, during coalition operations it is often unclear which state is responsible for IHL violations. For example, state A might carry out an airstrike based on intelligence provided by state B, with the initiation provided by state C.
Despite these sometimes-confusing coalition dynamics, Sexton argues that the obligation to investigate – stemming from the Geneva Conventions of 1949 and customary international law – continues to apply. For states to comply with this obligation, a cooperative and uniform approach to investigations should be taken. This includes sharing information with one another and synchronising casualty reporting processes.  
In addition to improving military effectiveness, adequate investigations allow states to comply with their legal obligations and provide accountability for victims. 
Read the full blog post. 
About James Patrick Sexton
James Patrick Sexton is a junior researcher in public international law at the T.M.C. Asser Instituut within the research strand: 'In the Public Interest: Accountability of the State and the Prosecution of Crimes'. In this role, James contributes to several projects in the context of the  Global Counterterrorism Forum (GCTF), namely the Maritime Security and Terrorist Travel, Watchlisting, and Racially or Ethnically Motivated Violent Extremism Initiatives.
Read more 
In an interview James Patrick Sexton discusses the state obligation to investigate war crimes committed in multilateral settings during armed conflict that formed the heart of his article published in The Military Law and the Law of War Review. Read more.

James Patrick Sexton LL.M.