[TV Interview] Asser researcher speaks about France's role in Sahel and counter-terrorism policies
Published 4 December 2019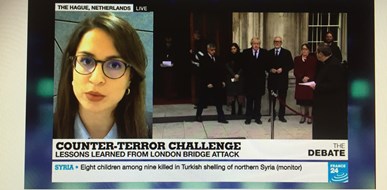 Asser researcher Rebecca Mignot-Mahdavi spoke live on France24's 'The Debate' on France's role in Sahel, the London bridge attack and the fight against terrorism.
On 26 November 2019, a helicopter collision killed 13 French troops pursuing Islamic militants in Mali, where France launched a military intervention in 2013. Three days later, on 29 November 2019, five people were stabbed, two fatally in Central London. The perpetrator had been convicted and jailed in 2012 for planning to detonate a bomb at the London Stock Exchange and released from prison in 2018. The Debate asked what has and should be done to improve counter-terrorism policies at home and abroad. 
A single transnational 'war against jihadist groups'
According to Rebecca Mignot-Mahdavi, the French involvement in Sahel is not only an intervention by invitation but also part of a broader strategy for what seems to be a single 'war against jihadist groups'. This raises concerns about how such a framing can lead to an indefinite war. Rebecca Mignot-Mahdavi insisted on the ever-growing confusion between times and spaces of peace and war. Framing the situation as a transnational war against whoever embraces jihadist ideology creates the misguided expectation that we stop applying domestic criminal law rules to offenders.
To watch the full debate, click here.
Further reading
Cuyckens, H. & Paulussen, C.'The Prosecution of Foreign Fighters in Western Europe: The Difficult Relationship between Counter-Terrorism and International Humanitarian Law', Social Science Research Network, 18 October 2019

Mignot-Mahdavi, R. 'Blog: Citizenship deprivation will strengthen IS jihadist ideology', T.M.C. Asser Website, 8 November 2019.

Paulussen, C, 'Together Against ISIS – Police and Justice Cooperation in Europe', in: M. Engelhart and S. Roksandic Vidlicka (eds.), Dealing with Terrorism – Empirical and Normative Challenges of Fighting the Islamic State, Duncker & Humblot: Berlin 2019, pp. 97-116.

Paulussen, C. 'The Repatriation of Western Foreign Fighters and their Families', ISPI Commentary, 28 June 2019.

Paulussen, C. & van Ark, R. Blog: 'Deprivation of nationality of Dutch IS fighters is counter-productive', T.M.C. Asser Website, 4 November 2019.