[Opening academic year] Academic director Janne Nijman: 'It is the human mind that may evoke change'
Published 1 September 2020
By Janne E. Nijman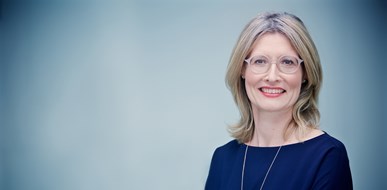 "Another academic year lies ahead of us. An extraordinary year, not just because of the ongoing Covid-19 pandemic and its effects on our personal and working lives, but also because of the many other global challenges we are facing.
As today's crises cut across traditional boundaries, education and knowledge are vital to respond to the negative impacts of globalisation, to assess the benefits and risks of fast-developing technologies, and to generate solutions for society's problems. Parliament, governments, civil society and businesses; we all need high-quality knowledge to base legislation and (policy) decisions on, rather than on fake news and misinformation. There is no doubt about the need for new thinking and a free exchange of ideas and knowledge to develop mutual understanding. Moreover, science and innovative ideas may help drive the pursuit of a sustainable world.
Later this autumn, UNESCO (the United Nations Educational, Scientific and Cultural Organisation) will celebrate its 75th anniversary. Founded after World War II, it was established "to contribute to peace and security by promoting collaboration among nations through education, science and culture in order to further universal respect for justice, for the rule of law and for the human rights and fundamental freedoms which are affirmed for the peoples of the world, without distinction of race, sex, language or religion, by the Charter of the United Nations" (UNESCO Constitution, 1945).
You may remember the famous words of UNESCO's Preamble - a text as valid today as it was right after a devastating war: "since wars begin in the minds of men, it is in the minds of men that the defences of peace must be constructed." The UNESCO constitution also stresses the dangers of ignorance: "ignorance of each other's ways and lives has been a common cause, throughout the history of humankind, of that suspicion and mistrust between the peoples of the world through which their differences have all too often broken into war."
Free exchange of ideas and knowledge to counter ignorance and mistrust
At the Asser Institute, we aim to contribute to the ideas UNESCO was founded upon by creating a free exchange of ideas and knowledge, with the current global challenges firmly in view. It is our mission to try to contribute to the development of international and European law with a view to the cultivation of trust and respect in society, - an antidote to ignorance and mistrust. Our research focuses on the protection of human dignity and security through law, on advancing public interests in a globalising world, and on a trustworthy system for international dispute settlement and international adjudication.
In our research, we explore new ways of thinking by questioning the status quo, by being critical of received beliefs, values and institutions, and by enabling the voice of the unheard to be heard. Asser researchers investigate ways to strengthen the role of legal actors in the defence of the right to freedom of expression, and they debate what measures and agreements can help limit weapons of mass destruction, - to mention a few of our research topics.
Our online education and public events bring together students and lecturers from all over the world to explore and discuss the challenges raised by artificial intelligence and the solutions international law can bring, or the divergent impacts of new technologies used for border surveillance and how law can help adjust these. The wide variety of perspectives this exchange of knowledge offers and our continuous dialogue with our friends at embassies, courts, tribunals, ministries, NGOs and the media, help us to bring a fresh and innovative lens to our thinking.
At the onset of a new academic year, it is important to realise that we all, as individuals, as researchers, practitioners, students and educators, have the capacity to help create change. Like those who founded the United Nations and UNESCO 75 years ago, we can re-imagine and act to help establish a better world. Our thinking, our choices and actions matter, as it is, in the end, the human mind that may evoke change."