[Annual Report 2020] 'The year of Zoom'
Published 28 July 2021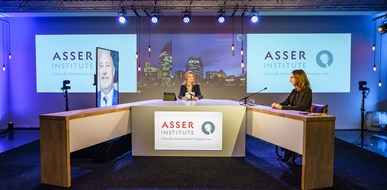 The Asser Institute Annual Report 2020 is now online. The report will give you an insight into the depth, diversity and impact of our research, training, publications and other educational activities.
With another year behind us, the Asser Institute wants to highlight our achievements of the last year in academic research, collaborations, events and publications through our 2020 Annual Report. Though our place of work changed to an online format, we were able to pursue our academic, educational, and research activities, as we continued to strive towards excellence and lasting impact. For instance, the hallmark Asser Annual Lecture, in which Andrew Murry spoke on the increasingly relevant digital-age topic  'Almost Human: Law and Human Agency in the Time of Artificial Intelligence', was a great success with over 600 active participants from all over the world, even through an online format.
Participants from all over the globe
Similarly, the Asser Institute Winter Academy on Artificial Intelligence and International law was a place for ardent discussion on the emerging questions of this field for policy makers, industry professionals, researchers and advanced students. Here, we experienced the benefits of online working, as legal experts, policymakers and participants were now able to join our events from all over the globe, without travel. And so they did – the number of participants to our online education and public events quadrupled. We are proud to have connected speakers and students from five continents in our summer programmes and winter academies.
Research and debate
Furthermore, our researchers were once again at the forefront of legal discussions, leading with innovative thinking. They were interviewed by the media about a wide variety of international law developments at the courts and tribunals of The Hague, on topics of counter-terrorism, sports law, artificial intelligence, autonomous weapons, and international criminal law. They intervened in various public debates, including on the outcome of the Ayyash et al. Judgment before the Special Tribunal for Lebanon; on the International Court of Justice ruling in the France and Equatorial Guinea property dispute, and on the repatriation of foreign fighters. Their success and hard work were crowned by the excellent mid-term review (2016 – 2020) that we received in 2021.
The year 2020 also witnessed the creation of new and innovative educational training, the joining of new staff, new cooperation agreements with the University of Amsterdam, and the first graduates of the Asser PhD programme. The continued dedication of our researchers, colleagues and students, maintains the diligent, creative and impactful work we hope to retain at Asser, going forward into 2021.