[Podcast] The Hague Courts Dialogue Series: short conversations with experts on international law about ongoing cases
Published 29 August 2022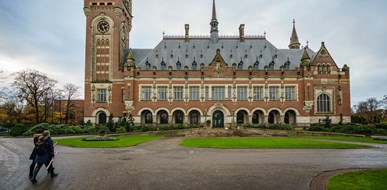 Subscribe now to the brand new The Hague Courts Dialogue Series podcast, brought to you by the Asser Institute, centre for international and European Law.
In this series, researcher and podcast host Carl Lewis has short conversations with legal experts on cases that have been brought before the international courts and tribunals based in The Hague, such as the International Court of Justice (ICJ) or the International Criminal Court (ICC).
The podcast will focus primarily on contemporary matters of international law raised in ongoing cases, as well as the more conceptional concerns which a pending case may bring up. The series will also pay attention to international legal questions that are raised in domestic decisions, such as those made by the Dutch Supreme Court.
Each episode is a short conversation with a guest, with the view to inviting her or him to continue the conversation at the Asser Institute and welcoming the audience to join.
If you don't want to miss any of the Asser Institute's The Hague Courts Dialogue Series events, sign up now for our biweekly Education & Events newsletter. 
The Hague Courts Dialogue Series Podcast is available on Apple and Spotify.
Episode 2: Questioning nationality at the ICJ: Looking back at the Nottebohm case with Dr Péter D. Szigeti
In this episode, Carl discusses the International Court of Justice's 1955 Nottebohm (Liechtenstein v. Guatemala) judgment with Dr Péter D. Szigeti of the University of Alberta. What is special about this case? What questions has it left open? And ought the ICJ reconsider the role international law perhaps should play in respect to certain questions concerning the nationality of individuals?
About the International Court of Justice
The International Court of Justice (ICJ) is the principal judicial organ of the United Nations. It was established by the United Nations Charter in June 1945 and began its activities in April 1946. The court is composed of fifteen judges elected for a nine-year term by the General Assembly and the Security Council of the United Nations. The seat of the court is at the Peace Palace in The Hague (Netherlands).
The ICJ has a twofold role: first, to settle, in accordance with international law, through judgments which have binding force and are without appeal for the parties concerned, legal disputes submitted to it by States; and, second, to give advisory opinions on legal questions referred to it by United Nations organs and agencies of the system.