'Children of IS parents should be repatriated for long-term security reasons'
Published 8 November 2018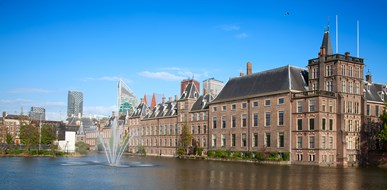 Today, Dutch parliamentarians convene on what to do with the Dutch children of parents who joined the Islamic State (IS) in Iraq and Syria. Asser senior researcher Dr Christophe Paulussen was co-author of a recent op-ed in the Volkskrant, which argued that for long-term security reasons these children should be repatriated as soon as possible.
There are currently 175 children who have at least one Dutch parent living in Syria and Iraq, several of whom are staying in camps controlled by armed groups. More than two-thirds of these children were born in the region. Most of them are younger than nine years old, with half of these being younger than four years old.
Duty of care
The Netherlands, like several other states, does not actively repatriate these children. States do have obligations, though, under international law and child protection laws, experts Bibi van Ginkel, Willem van Genugten and Christophe Paulussen wrote in their op-ed. Though legal obligations and principles place the duty of care initially with parents, the state has obligations when parents default on this. In all legal instruments, the state, in principle, has the freedom to weigh pro's and con's, but it should start with the interests and welfare of the child, and motivate its considerations on a case-by-case basis, the three experts argued.
The balancing of interests has to take state security arguments into account. The Dutch government thinks that reclaiming the children would be dangerous for Dutch society, as boys from as young as nine years old may have received combat training. There are risks of indoctrination and trauma and their possible long-term effects. Data from the Dutch intelligence service AIVD, however, show a maximum of nine children with IS combat training.
In their op-ed, Van Ginkel, Van Genugten and Paulussen argue that not all children will pose a security threat when they come back, while leaving them in Syria and Iraq would most likely pose serious long-term security concerns. The children might become de facto stateless, get further radicalised, experience further traumatisation, or feel abandoned by their home country, which could turn into a desire of revenge.
The Netherlands' Ombudsman for children, Margrite Kalverboer, has called upon the Dutch government to do everything in its power to recall the children, in accordance with the United Nations Convention on the Rights of the Child.
Further reading
Read the full op-ed in the Volkskrant.