Save the date: Winter academy on artificial intelligence and international law
Published 12 October 2018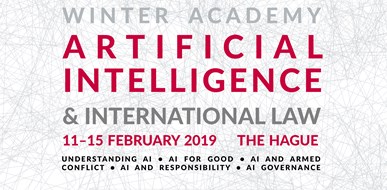 In February 2019, the Asser Institute is offering a new Winter Academy on Artificial Intelligence and International Law. Over the course of one week, this innovative training programme will provide insights into the current and future issues raised by artificial intelligence (AI) from the perspective of international law.
The Winter Academy will be structured along five themes: Understanding AI, AI for good, AI and armed conflict, AI and responsibility, and AI governance. It will feature discussions on the opportunities and risks of using AI for international legal practice, address legal aspects of the use of AI in the context of law enforcement and armed conflict, explore individual and collective responsibility for the use of AI, and provide perspectives on the international governance of AI. The interactive training will include panel debates and technical workshops and demonstrations.
The Winter Academy will take place from 11 to 15 February 2019 at the Asser Institute in The Hague, and will be open to a limited number of participants. More information on the programme, registration details, and scholarship opportunities will soon be available on our website.