KNAW award for Asser Associate Fellow Dimitri Van Den Meerssche
Published 26 May 2021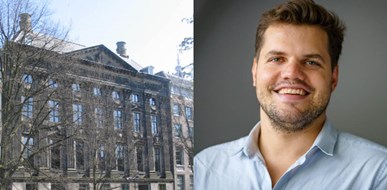 Asser Associate Fellow Dimitri Van Den Meerssche has received an Early Career Partnership Award from the Royal Netherlands Academy of Arts and Sciences (KNAW). He will receive € 10,000 to organise an interdisciplinary meeting on Legal Method, Methodology and Critique in a Digital Era, which will be the closing workshop of the lecture and workshop series on ''Method, methodology and critique in international law", organised at the Asser Institute. This is the second time an Asser researcher receives the KNAW award; in 2020 senior researcher Berenice Boutin received the grant to organise a conference on the Law and Ethics of Artificial Intelligence in the Public Sector: from Principles to Practice and Policy. See the news item here.
Innovative and original research ideas
The award is intended to support and encourage talented early career researchers who demonstrate the ability to develop innovative and original research ideas. The KNAW selected ten researchers in total for this award. The KNAW selection committee described the selected proposals as "of outstanding scientific quality [that] focus on important social issues and emphasise interdisciplinarity". They are based on "robust international partnerships among top experts" representing "the best way to understand and solve complex issues". The awardees will organise the meeting in collaboration with a member of the Academy.
Dimitri Van Den Meerssche is an Associate Fellow at the T.M.C. Asser Institute (previously he was a researcher in the Dispute Settlement and Adjudication strand). He is currently a postdoctoral research fellow at Edinburgh Law School. His current research focuses on how algorithmic decision-making tools are reshaping the law and practice of global governance – particularly in the domain of border control. As an international legal scholar, his work is also inspired by critical security studies, actor-network theory and science & technology studies. At the Asser Institute, he is leading a twelve-part lecture and workshop series on ''Method, methodology and critique in international law", which brings researchers together to reflect on topics such as postcolonialism, legal anthropology, critical geography and many more.
About the event he says "I am very happy that KNAW is giving us the opportunity to conclude our online methodology series with an in-person event in The Hague. At this event, we want to place to work of junior researchers centre-stage in exploring new avenues for critical, interdisciplinary research in international law".