[SIGN UP NOW] Online advanced summer programme on terrorism, countering terrorism and the rule of law
Published 24 February 2020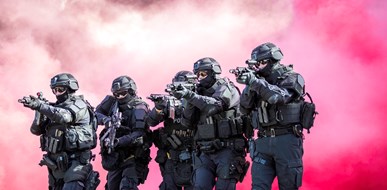 Covid-19 update
Due to the Corona virus outbreak, the format of this training programme might be subject to change. While we strive to welcome you on our premises in The Hague, we might be forced to move the programmes to an online platform. Should this happen, we will offer you a 33 % discount. If you had already paid for your spot, you will get reimbursed the difference in price. Registered participants will receive notification of the format at least a month before the starting date.
From 24 – 28 August 2020, the T.M.C. Asser Instituut and ICCT in The Hague will host the tenth Advanced summer programme on terrorism, counter-terrorism and the rule of law. In this thought-provoking summer training you will learn all there is on the international and domestic legal aspects of counter-terrorism, in inspiring and interactive classes by international top speakers in the field. Sign up now to avail our fantastic Early Bird offer. 

Background
Terrorist attacks have triggered an increase in security-related legislative provisions across the world. A wide range of new or updated administrative and criminal law measures is meant to bolster states' ability to respond to acts of terrorism, and to address perceived 'gaps' in domestic legislation and security strategies.

In trying to pre-empt terrorism related activities as early as feasible, states have further introduced additional preparatory and inchoate offences, curbs on financial and other support, limitations on the scope of the right to freedom speech and others. How proportional and legitimate are these measures? Are they effective?
About the programme
During an intensive week, experts, academics and practitioners will explore international and domestic legal aspects of counter-terrorism. You will get the chance to have a unique and in-depth look at the challenges that come with adopting and implementing counter-terrorism measures, while ensuring respect for human rights, fundamental freedoms and the rule of law. Our renowned summer programme will bring you lectures by top speakers in the field, interactive sessions, study visits, group discussions (Chatham House Rules) and panel presentations on current topics. Download the programme here.
When: 24 – 28 August 2020
Language: English
Duration: 5 days
Fees: Early Bird fee: €1395, PhD fee: €1045, Standard fee: €1695. We have a special combined fee of €3295, if you wish to attend both the Asser Institute's programme and the summer programme of the University of Leiden.
Key topics: Latest developments in the legal aspects of terrorism & counter-terrorism, administrative and security measures, domestic and international law dilemmas, use of intelligence evidence in counter-terrorism cases, prosecutorial challenges and impact of counter-terrorism on human rights.
For whom? PhD candidates, policy makers, national and international experts, security services, practitioners and career academics currently working in the field of counter-terrorism or aiming to.
Why? The 10th Advanced summer programme on terrorism, counter-terrorism and the rule of law gives you all the necessary tools for the successful implementation of international and domestic legal aspects of counter terrorism in your daily practice. It will provide you with comprehensive knowledge of the legal fundamentals of counter-terrorism and extremism, through interactive study of both the relevant legislation and case law. The course will combine presentations, practical workshop activities and field trips, all led by high-level experts in the field.
Speakers and topics in 2019
Our 2019 list of confirmed speakers included:
Have a look at last year's programme, which covered a wide range of topics such as:
The (lack of a) definition of terrorism in international law

Legal limits to military responses to terrorism

Criminal justice responses to terrorism

The crime-terror nexus

Evidentiary issues (including evidence collection from a battlefield)

Prosecutorial challenges, administrative and security measures.
2019 study visits
In previous years, we have hosted speakers such as Prof. Helen Duffy (Leiden University), Prof. Fiona de Londras (University of Birmingham) and Prof. Martin Scheinin (EUI) (former UN Special Rapporteur on the Protection and Promotion of Human Rights and Fundamental Freedoms while Countering Terrorism).
Registration and questions
To register for the summer programme, please click here or on the red register button above to fill out the form. Please read the registration terms & conditions carefully before registration. For inquiries on registration and the programme, please contact educationtraining@asser.nl
Two programmes at a discount
Prior to this summer programme, participants have the opportunity to enrol in a complementary summer programme that focuses on preventing violent extremism. This programme is organised by the Centre for Professional Learning of Leiden University and ICCT. The combined fee to attend both summer programmes is €3295.

Should you wish to register for the combined summer programme discount package, or if you have any other inquiries related to the rule of law component, please contact educationtraining@asser.nl
Watch the 2019 video: Citizenship stripping as a counter terrorism measure.