New publication: The Cambridge Companion to Hugo Grotius
Published 28 September 2021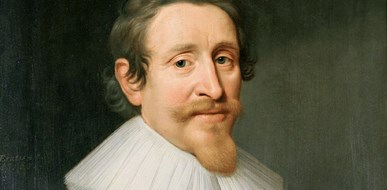 The Cambridge Companion to Hugo Grotius, a brand new publication by Randall Lesaffer and Janne E. Nijman, offers a comprehensive overview of the work of Dutch humanist, diplomat, lawyer, theologian and jurist Hugo Grotius (1583–1645).
Grotius lived through a time of great upheaval in Europe as well as in his country of birth, the Dutch Republic. The religious, political and constitutional convulsions that struck the Republic destroyed Grotius' career but also, in combination with fundamental changes in the intellectual outlook of early seventeenth-century Europe formed his views of God, nature, society, politics and law.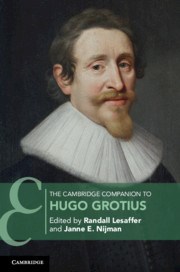 The Cambridge Companion to Hugo Grotius (Cambridge University Press (2021), available in hard copy and open access) is aimed at students, teachers and general readers, while its chapters also draw upon and contribute to recent specialised discussions of Grotius' oeuvre and its later reception. Contributors to the volume cover the width and breadth of Grotius' work and thought, ranging from his literary work, including his historical, theological and political writing, to his seminal legal interventions.
While giving these various fields a separate treatment, the book also delves into the underlying conceptions and outlooks that formed Grotius' intellectual map of the world as he understood it, and as he wanted it to become, giving a new political and religious context to his forays into international and domestic law.
About the authors
Randall Lesaffer is Professor of Legal History at KU Leuven in Belgium and at Tilburg University in the Netherlands. His research focuses on the history of the early-modern law of nations in Europe, as well as the history of modern international law. He is the general editor of The Cambridge History of International Law, Oxford Historical Treaties and an editor of the Journal of the History of International Law. He is president of the Grotiana Foundation.  
Janne E. Nijman is chairperson of the executive board and academic director of the T.M.C. Asser Instituut in The Hague, and Professor of History and Theory of International Law at the University of Amsterdam in the Netherlands. She is also Professor of Public International Law at the Graduate Institute of International and Development Studies in Geneva. She has published on Hugo Grotius, and she is an editor on the board of Grotiana and a board member of the Grotiana Foundation.