Research funding for ELSA Lab Defence project on military artificial intelligence
Published 1 February 2022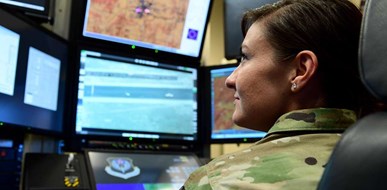 The Dutch Research Strategy (NWA) has awarded funding to the ELSA Lab Defence project, in which a coalition of Dutch research organisations and the Asser Institute will develop a future-proof, independent and consultative ecosystem for responsible use of AI in defence. The NWA call 'Human-centered AI for an inclusive society – towards an ecosystem of trust' awarded projects totalling over 10.9 million euros.
ELSA Lab Defence
The ELSA ('ethical, legal, societal aspects') Lab Defence project, led by research organisation TNO The Hague, will develop a future-proof, independent, and consultative ecosystem for responsible use of artificial intelligence in defence. The Dutch Ministry of Defence sees Artificial Intelligence (AI) as a crucial tool for maintaining peace and security, as it can, for example, enable rapid processing of big data and can result in the development of intelligent, unmanned robots.
The use of AI technology in defence also raises many ethical, legal and social questions, such as how to ensure AI systems remain under meaningful human control, and how to maintain the human touch when giving autonomy to machines. The ELSA Lab Defence will address these questions by developing a future-proof, independent, and consultative ecosystem for responsible use of AI in defence.
The Asser Institute will be responsible for refining and applying the ELSA methodology to specific cases and to test the implementation of the methodological framework through exercises, simulations and trainings aimed at stakeholders from defence and policy. It will further develop a platform that will provide stakeholders with project-based advice on military ELSA.
Asser senior researcher Berenice Boutin will be leading Asser's contribution to the research project.

"The unique nature of the work in the defence domain make the stakes of AI use in this context extremely high. This project will make use cases-based exercises, simulations, and trainings to inform armed forces and policy makers on the possibilities of military use of AI while respecting safety, human autonomy, and fundamental rights. It will build upon and complement the work we have been doing in the DILEMA project". – Dr Berenice Boutin – T.M.C. Asser senior researcher.

"The type of interdisciplinary cooperation that is fostered by projects like the ELSA Lab Defence project are critical for addressing the pressing challenges of a rapidly changing world. T.M.C. Asser Instituut is enthusiastic to contribute to a research-based strategy that will help frame policy that has the public interest at heart, namely safeguarding human dignity and protecting fundamental rights and safety." - Prof. Janne Nijman - T.M.C Asser academic director.
Partners ELSA Lab Defence project: TNO The Hague, TU Delft, University of Leiden, The Hague University of Applied Sciences, the Netherlands Defence Academy, the Dutch Ministry of Defence, The Hague Centre for Strategic Studies, Security Delta HSD and the Asser Institute
About human-centred artificial intelligence
Dutch Research Council NWO and the Dutch AI Coalition, as part of the Dutch National Science Strategy, are responsible for the research programme 'Artificial Intelligence: Human-centred Artificial Intelligence (AI) for an inclusive society - towards an ecosystem of trust'. The programme promotes the development and application of trustworthy, human-centred AI. In this public-private partnership, government, industry, educational and research institutions as well as civil society organisations work together to accelerate and connect existing initiatives.
The coordinated research on technological, economic and societal challenges will be conducted in co-creative environments. Within so-called 'ELSA Labs' (ethical, legal and societal aspects), researchers and companies will contribute to gaining knowledge of the development and application of trustworthy, human-centred artificial intelligence (AI).
The NWA awarded projects will run for five to six years. In June 2022, they will jointly propose a network project, which aims to generalise the research results, scale up the solutions from the different ELSA Labs, build a learning community, and develop a blueprint for an ELSA Lab.
The Netherlands Ministries of Economic Affairs and Climate Change, Defence, Justice and Security, the Interior and Kingdom Relations, and Education, Culture and Science are spearheading this initiative.
About the Dutch Research Agenda (NWA)
Dutch Research Council NWO carries out the Dutch Research Agenda NWA, on behalf of the Ministry of Education, Culture and Science (OCW). The NWA's goal is to utilise knowledge to make a positive, structural contribution to tomorrow's society, by building bridges today and working together to achieve scientific breakthroughs and jointly ensuring scientific and societal impact. One way in which this is achieved is through structuring research thematically in collaboration with governments. The objective of the thematic NWA programmes is to find answers to current social questions. All research is interdisciplinary and involves the entire breadth of the knowledge chain as well as relevant societal partners.
About the T.M.C. Asser Institute
The T.M.C. Asser Instituut is an internationally renowned centre of expertise in the fields of public international law, private international law and European law. The T.M.C. Asser Instituut conducts fundamental and independent policy-oriented research and organises critical and constructive reflection on international and European legal developments, at the interface of academia, legal practice and governance.
Disruptive technologies in peace and security, defined as technological developments that can have disruptive implications for international security and international law are one of the focus areas of the Asser Intitute's research. Within this area, Asser researchers examine military artificial intelligence (AI), data-driven warfare, biochemical weapons, and conventional weapons or dual use technologies with a disruptive potential (e.g. small arms, drones, cyber-surveillance
Advance your knowledge on artificial intelligence and international law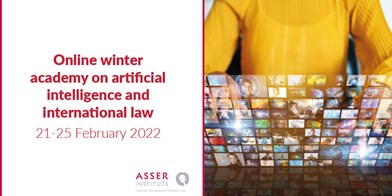 The upcoming 4th edition of the (online) Winter academy on artificial intelligence and international law is an interdisciplinary programme that offers in-depth perspectives on AI and international law. It provides foundational knowledge on key issues at the intersection of theory and practice, and offers a platform for critical debate and engagement on emerging questions. The programme covers technical aspects of AI, philosophy and ethics of AI, AI and human rights, AI and international humanitarian law, AI and international responsibility, and international governance of AI. The course is aimed at researchers and advanced students, policy analysts and legal advisers working on innovation and technology in public or private institutions and industry professionals interested in the law and governance of AI. Register now.