[Interview] Researcher Chukwuma Okoli: "With increasing investments in Africa, knowledge of private international law will be key."
Published 3 June 2021
By Zofia Kostrzewa & Megan Gethin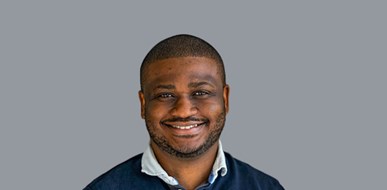 With the fast-growing international trade with Africa comes an inevitable rise in trade disputes. For trade to run smoothly, questions such as 'what courts have jurisdiction; what law(s) should apply; will a foreign judgment be recognised and enforced by the courts of African states' will need to be resolved. Meet Chukwuma Okoli, Asser researcher in private international law in Africa: "Young academics should remain true to themselves."
Why did you choose to study private international law?
"I have always been interested in the international dimension of law, - that was what attracted me to the subject of private international law in the first place. Then I was actually encouraged to focus on this particular field by my mentor, Professor Paul Beaumont. While I studied in the United Kingdom for my LL.M, he observed that I did very well. He told me: "Look, you're doing pretty great in private international law, why don't you join me?" That really encouraged me to commit to the field. So I see myself as a product of mentorship and that is why, whenever I can, I do my best to give back to society, by mentoring students and interns as well." 
What kind of societal and academic impact are you aiming for with your work?
"'Private international law in Nigeria', the book that I co-authored with Professor Richard Frimpong Oppong, was the very first on the subject. Before, judges and lawyers struggled to handle claims on private international law in Africa. Our book was praised for filling this gap.
With increasing populations in Africa and increasing investments, knowledge of private international law will be key. So I intend to work on the second edition of Private International law in Commonwealth Africa, which will help to fill another gap. In that publication, we will be looking at themes on the brand new African Continental Free Trade Agreement as well." 
Next month you are coordinating a Masterclass on 'Investing in English-speaking Africa: A private international law toolkit', can you tell us a bit more about it?
"Africa is an up and coming consumer market, and more and more investments are coming in. The new market created under the African Continental Free Trade Area (AfCFTA) agreement is estimated to be as large as 1.3 billion people across Africa, with a combined gross domestic product (GDP) of $3.4 trillion. According to the World Bank, this has a potential of lifting up to 30 million Africans out of extreme poverty. So I think that anyone who wants to invest in English-speaking Africa, and anyone who's interested in how commercial investment in Africa looks like from a commercial litigation perspective, should actually attend this Masterclass. We will have an array of leading experts that will be going in depth into the aspects of commercial private international law from both an academic and a practitioner's perspective." 
What do you consider to be the best thing about working at the Asser Institute?
"What I really enjoy about the Asser Institute is that it encourages diversity, and it encourages you to think outside the box. Not many institutes actually accommodate African perspectives on the law. I further think that working at the Asser Institute encourages you to also think outside the box. I am challenged to ask myself: what more can you contribute? These things, inclusivity and out-of-the-box thinking are the guiding factors in making it encouraging to work at the T.M.C Asser Instituut."
What do you think has been your proudest moment as a researcher, and what has been your most challenging moment?
"I am most proud of the publication of my book Private International Law in Nigeria. It really responded to a societal need in Nigeria - judges and lawyers find these topics very difficult to handle in Nigeria.
The biggest challenge I've faced as an academic, I think, is dealing with the question: how can we make private international law in Africa intellectually independent and very creative? Because most of the rules we have in private international law in Africa stem from the colonial regime. A challenge for many of us in Africa is: how we can develop something that is intellectually new, independent, and something different from the existing norm?"
If you were to offer advice to young academics or legal scholars wishing to enter your field, what would it be?
"My advice would be that young academics should remain true to themselves. What makes a genuine scholar, I think, is coming up with something of your own. And this means being courageous about your ideas, and being brave about what you want to do. I think that's really very important for any scholar that wants to approach any area of the law."
About Chukwuma Okoli
In 2019, Chukwuma Okoli joined the Asser Institute to work on the research strand on International dispute settlement, where he focuses on three main jurisdictions in private international law: Nigeria, the African Union, and the European Union. He has a special interest in international commercial litigation or commercial conflict of laws. Chukwuma holds a PhD in commercial conflict of laws (University of Luxembourg), a Master's in international commercial law. Chukwuma is a qualified lawyer in Nigeria as well.
Read more