[Annual Lecture] 'Europe's role in the world: player or plaything?' by Prof. Brigid Laffan
Published 13 October 2021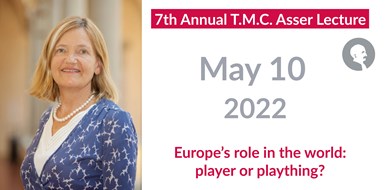 Registrations are open for the seventh Annual T.M.C. Asser Lecture 2021, which will be held by Emerita Professor Brigid Laffan, an internationally recognised expert on the European Union. The title of her lecture is: 'Europe's role in the world: player or plaything?'. During the 7th Annual T.M.C. Asser Lecture, Brigid Laffan will analyse the challenges facing Europe in a world of geopolitical shift and shock:
"We are witnessing a return of Great Power competition and competition between political and economic systems. Urgent challenges - digitalisation, the future of work, the climate crisis, migration and inequality - require national, regional and global responses. The European Union, a polity but not a state, has to adapt and adjust to shifts in global politics. But it struggles to amass collective power or to deploy strategically its resources and capabilities. What are its challenges? " - Brigid Laffan
About Brigid Laffan
Until earlier this month, Brigid Laffan was director and professor at the Robert Schuman Centre for Advanced Studies and director of the Global Governance Programme at the European University Institute (EUI), Florence. In the last eight years, Laffan has been the convenor of the State of the Union, the annual summit for high-level reflection on the European Union, which acts as a bridge between academia and policy making at the highest level in Europe. In 20‌18, Politico ranked Laffan, a long time professor of political science who grew up in Ireland, among the women who shape Europe. Laffan is a leading thinker on the dynamic of European integration. She has published a number of important books on Europe, such as Integration and Co-operation in Europe (19‌92), The Finances of the Union (19‌97), Europe's Experimental Union - Re-thinking Integration (20‌00, co-authored), Core-periphery Relations in the European Union (20‌16, co-edited) and Europe's Union in Crisis: Tested and Contested - West European Politics (20‌16). Brigid Laffan was awarded the THESEUS Award for outstanding research on European Integration, and the UACES Lifetime Achievement Award. In 20‌10, she received the Ordre national du Mérite by the President of the French Republic.
This year's T.M.C. Asser Annual Lecture will take place in the Academy Hall of the Peace Palace, The Hague, the Netherlands on Tuesday, 10 May 2022 from 16‌.00 – 17‌.30 hrs CET, followed by a reception.
Seats for the live event will be assigned on a first come, first-served basis, so we kindly ask you to secure your seat in the Peace Palace now.
If you wish to watch the lecture online, please register here to receive a hyperlink prior to the event.
Watch the video below to learn more about the event:
More information on the lecture and our COVID-19 policy will follow soon.