Panel discussion: Human control over Autonomous Military Technologies
Published 29 January 2019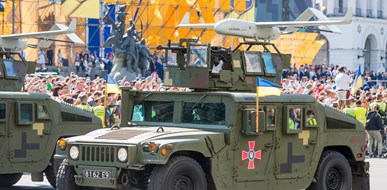 On Wednesday 13 February, the Asser Institute will be hosting a panel discussion on the topic of 'Human Control over Autonomous Military Technologies' from 14:30 to 17:00. The event is organised in the context of the new Winter Academy on Artificial Intelligence and International Law, taking place from 11–15 February 2019 and is open upon invitation.
The purpose of the panel discussion is to bring together experts in the field of artificial intelligence, political science, computer science, strategic affairs, philosophy and ethics, as well as industry professionals and researchers in order to facilitate discussion on autonomous military technologies. The event will be followed by a networking reception at the Asser Institute (17:00–18:30).
Military innovations, from the invention of gunpowder to the advent of nuclear weapons, have been transforming the way wars are waged for centuries, and autonomous weapons have been termed 'the third revolution in warfare'. The prospect of military technologies which can function in the absence of meaningful human control, while still in the developmental stage, raises a host of ethical and legal questions which will be discussed during the panel.
The panel will be composed of the following speakers: 
Lt Col Bart van den Bosch (Netherlands Defence Academy, University of Amsterdam)
Professor Mary Ellen O'Connell (University of Notre Dame)
Dr Ozlem Ulgen (Birmingham City University)
Major Ilse Verdiesen (TU Delft, Royal Netherlands Army)
Moderated by: Dr Sofia Stolk (Asser Institute, VU Amsterdam)
Participation upon Invitation
This panel discussion will be open to participants external to the Winter Academy upon invitation only. While registration for the panel event is not possible, interested individuals who feel they have sufficient expertise on this topic and will benefit from attendance are encouraged to send an email to Ms Kike Ajibade (K.Ajibade@asser.nl) by 7 February 2019, with 'Invitation Panel Discussion Winter Academy' in the subject line.
Winter Academy on Artificial Intelligence and International Law
The Winter Academy on Artificial Intelligence and International Law is a one-week training programme that will offer foundational knowledge on key issues at the interface of artificial intelligence and international law, and provide a platform for critical debate and engagement on emerging questions.
The programme will be structured along five themes: Understanding AI, AI for good, AI and armed conflict, AI and responsibility, and AI governance. The Academy includes modules addressing both technical and legal aspects of AI, and features a mixture of lectures, debates, and workshops.
For more information on the Winter Academy, as well as the link for registration, please see here.