[New blog post] Victoria Kerr: 'De-bunking the role of international law in the Ukrainian conflict'
Published 22 March 2022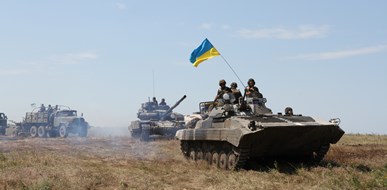 In a new blog post for international law blog OpinioJuris on the Russian-Ukrainian conflict, Asser Institute researcher Victoria Kerr calls for a shift in narrative from obituaries of international law, towards how international law can be harnessed to respond to the conflict.
The fragmented responses by the international community on the basis of the illegality of the Russian invasion in Ukraine, and their lack of impact in preventing further escalation of the conflict, have led some to argue that the international legal order, and international law itself, are dead. The UN Security Council, expectedly, has been paralysed as a result of the Russian veto. And Kenya's ambassador to the UN, Martin Kimani stated: 'multilateralism lies on its deathbed [...]. It has been assaulted today as it has been by other powerful states in the recent past.' 
A shift in narrative
In her blog post 'De-bunking the role of international law in the Ukrainian conflict' Kerr writes that criticising of international law will not help address the continued impunity for violations of international law. According to Kerr, it is high time for a shift in narrative towards how international law can be harnessed and enforced in situations like the Russian-Ukraine war. Kerr: "International law may not itself deter Putin from continuing the war in Ukraine, however the international community (with the support of the Ukrainian government), is harnessing international law to respond to the Russian invasion in Ukraine with unprecedented speed and scale." 
Kerr describes some of the available options for a legal response under the sub-fields of international law of international human rights law and international criminal law. Kerr: "This should be the turning point - if the consequences to all those who seek to perpetuate war become more concrete, if perpetrators of international crimes are brought to justice and held accountable, and if international law is enforceable, then the power of international law will be the deterrent going forward."
Read the full blog post.
Victoria Kerr is a junior researcher in the Asser research strand 'In the public interest: accountability of the state and prosecution of crimes. This research strand examines i) the accountability of states - individually and collectively (for instance at the level of the United Nations or the European Union) - in light of public interest standards in the context of counter-terrorism; and ii) the prosecution of individuals for international and transnational crimes in the public interest. Moreover, to ensure both the accountability of the state and the prosecution of individuals, this strand will also investigate iii) the role of journalists, the (new) media, human rights NGOs and academics in protecting and promoting public interest standards.