[ICL-TCL training] Strengthening domestic capacity to prosecute international and transnational crimes in Africa
Published 21 February 2022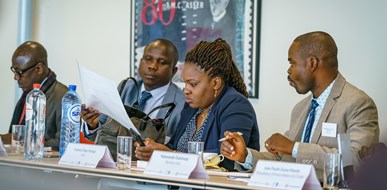 Today begins the third round of a training course on international and transnational criminal law, also known as the 'ICL-TCL training'. The course aims to empower judges and prosecutors from French-speaking African countries to deal with international and transnational crimes.
Since 2018, and together with the  Antonio Cassese Initiative and International Nuremberg Principles Academy, the T.M.C. Asser Instituut has been organising this training course on international criminal law (ICL) and transnational criminal law (TCL). The programme aims to strengthen the capacity of national jurisdictions in French-speaking African countries in prosecuting international and transnational crimes. Participants are national prosecutors and judges from Benin, Burkina Faso, Burundi, Cameroun, CAR, Chad, Côte d'Ivoire, Congo, DRC, Mali, Niger, and Togo. This year, twelve NUFFIC scholarship recipients will also participate in the training.
The ICL-TCL training course aims to:
Equip judges and prosecutors with practical skills, tools, and knowledge on how to address international and transnational crimes, as these fields are increasingly intertwined;
Endow local authorities with the capacity to ensure effective cooperation with the International Criminal Court (ICC);
Increase standards of fairness in national proceedings; and
Provide a solid regional and international network and increase cooperation among national and international judiciaries. 
Prosecuting international crimes
In the past forty years, the international criminal justice system has witnessed significant progress with the establishment of the International Criminal Court (ICC) and several ad hoc international criminal tribunals, which prosecute those responsible for genocide, war crimes, crimes against humanity and other atrocities and serious humanitarian violations that threaten the international community.
Despite these developments, however, the primary responsibility assigned by international law for the prosecution and prevention of international crimes remains with individual states. Therefore, to combat impunity and provide access to justice for victims, to prevent crimes and promote the rule of law, the role of national prosecutors and judges is fundamental. 
However, applying international criminal law - a relatively young legal discipline - at the national level is often a complex process that requires specific skills and training. National investigators often face difficulties when working on cases involving crimes of international nature. These crimes take place in remote areas, entail large-scale atrocities with a nexus of different perpetrators and they often involve a very complicated evidence-collection process.
Moreover, crimes may involve persons who are still occupying high-level governmental or military functions, which increases the difficulty for judges to guarantee the independence of their institution in such a context.
'You have to be courageous to try war crimes'
As 2019 lecturer professor Jerôme de Hemptinne (Utrecht University) says: "In fact, you have to be very courageous to try these war crimes and crimes against humanity." De Hemptinne thinks that support is needed to overcome the challenges of ICL and TCL 'in a context where the international community is quite weak, and in the context where states are not able to provide support for international courts and tribunals. De Hemptinne: "We're teaching participants the technicalities with regards to certain crimes, technicalities that they may otherwise not be aware of."
Preventing mistakes
The ICL-TCL training has been hailed as a success. Former training participant, magistrate and advocate general at the Court of Appeal in Abidjan, Ivory Coast, Bakayo Ibourahema says: "We are facing daily challenges regarding the implementation of international criminal law. We, magistrates, have to hear and decide cases, but the difficulty often resides in the proper access to legal knowledge. (…) I would say that this training is essential: it opens our eyes and prevents us from making important mistakes. We cannot hope for a healthy cooperation with the International Criminal Court (ICC) without knowing which laws to apply."
This year's edition will combine a-synchronic, synchronic and in-person learning. Asser Institute researcher and project leader Marta Bo: 'The Covid-19 crisis has strongly altered higher education worldwide and also this programme has turned to online learning, by making the best use of both online tools and in-presence education. This year's training programme now includes pre-recorded lectures focusing on the elements of international and transnational crimes; online training modules and five days of in-person seminars focused on case-studies, procedural and evidentiary issues and cooperation."
Watch the testimonials from 2019 seminars
International and Transnational Criminal Law training, interview with Bakayoko Ibourahema
International and Transnational Criminal Law training, interview with Jérŏme de Hemptinne
International and Transnational Criminal Law training, interview with Benjamin Charlier
The training is part of the Orange Knowledge Programme, funded by the Ministry of Foreign Affairs as part of the Netherlands' development policy and managed by Nuffic.
More information
For more information on the course, please contact Maria Sperling, (senior project officer) or Dr Marta Bo, (project leader and researcher at the T.M.C. Asser Instituut and the Graduate Institute of International and Development Studies, and member of the board of the Antonio Cassese Initiative).