[Out now] Video and interview with Prof. Brigid Laffan on Europe and the hardening of geopolitics
Published 19 May 2022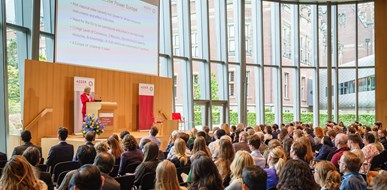 On May 10, in a packed Peace Palace in The Hague, Annual T.M.C. Asser Lecture speaker and political scientist Prof. Brigid Laffan addressed the European dependencies and vulnerabilities in relation to the war in Ukraine, and in the context of a hardening of geopolitics. According to Laffan, current conceptions of the EU as a normative power and market power have become insufficient.
Laffan explained how the concept of 'Collective Power Europe' (CPE) can open up a conceptualisation of the EU as a global actor that is 'not a scaled-up version of the nation state but one that focuses on action and outcomes and on the capacity generated by the collective and the member states'.
'Hasten the energy transition'
Prof. Laffan called for the EU to hasten its energy transition, as energy dependence is a dangerous vulnerability. Laffan thinks that it is worth for European member states to borrow collectively to manage the transition and to ensure that the energy transition is a just one.
According to Prof. Laffan, European defence and security cannot be left to NATO and the US, so the EU should focus on building up member state and collective capability in this field. "Faced with aggression in the east, the EU cannot forget the south and its need to stabilise this part of its neighbourhood. There is an urgency to the EU's activities in security and defence especially developing capabilities in new and emerging technologies. Without urgent policy developments in both energy and defence, the EU's search for strategic autonomy will remain largely rhetorical and fall well short of CPE and the imperatives of contemporary geopolitics."
Watch the full lecture
Interview: Brigid Laffan on 'Europe in the world: The emergence of Collective Power Europe'
Prior to the Lecture, Asser researchers Eva Kassoti and Narin Idriz, project leaders of the Global Europe project, interviewed Prof. Laffan for international law blog OpinioJuris. On Europe's ambition to project its founding values abroad, prof. Laffan says: 'In my view, you can never externally impose either democracy or human rights on other countries. What you can do is add conditionalities in return for market access. Europe will not alter the nature of the Chinese political system. But Europe has a choice in terms of the Uyghurs by making sure you do not take products from those so-called factories. It is important that Europe retains its commitment to those foundational values, which are much better for everyone to live under than being without. Living in a country of arbitrary state power, where the police can come knock at your door and make you disappear, is a very unsafe way to live. There is enormous value in European values. Those values were hard fought over through the 19th and 20th centuries. It isn't that Europe woke up some morning and had these values. People stood on barricades, people died for these values. In that sense, yes, there is a certain hypocrisy of projecting externally when you have Orbán and Kaczynski. But in a way, that is not entirely representative of Europe, either. Most European member states are democracies with at least decent human rights provisions. There is no perfect polity in the world, and there is no such thing as perfection when it comes to human rights. But, if you want to choose the kind of society to live in, that gives your children prospects and gives you protection, and avoids that arbitrary state power, then Europe is that – despite all the inequalities.'
Read the full interview.
Global Europe project: Investigating public interest in the EU's external action. The Global Europe project of the Asser Institute analyses the EU's external policies and action with a view to establishing the EU's capacity to exercise principled and value-based global leadership. Read more.