CLEER Winter Academy: EU external relations and instruments
Published 6 November 2019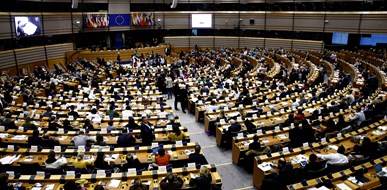 The European Parliament (EP) has frozen 100 million Euros of financial aid for Turkey this week, and is considering additional measures. This sanction came after many members of parliament have pushed the parliament to take action in response to Turkey's invasion of Syria.

The EU as a powerful actor to influence external relations
This is only one example of the several instruments the EU has at its disposal to play an active external role in the promotion of democracy, human rights, and the rule of law. Others include sanctions, embargos, (free) trade agreements, military and civilian missions, humanitarian aid, enlargement and European Neighbourhood Policy. With that, the EU is considered to have more instruments for external relations than any other country or organisation in the world.
But how do these instruments work, exactly? And how, once applied, do they contribute to the external relations of the EU? To get insight and understanding of the external relations of the EU, the Asser Institute has developed a new, interactive winter academy on EU external relations that will provide participants with state of the art knowledge of this policy area.
About the training:
The CLEER winter academy is a one-week training course consisted of two parts. Part one covers EU external policies and instruments (17 & 18 February), and part two covers EU asylum and migration issues (19 – 21 February). You can choose to attend the full week or just the part you are interested in.
The academy offers interactive lectures delivered by renowned academic experts as well as workshops led by experienced practitioners. The programme combines training sessions focusing on developing both knowledge and skills, thereby enabling participants to gain first-hand experience of how theory is transformed into practice.
EU external policies and instruments (17 and 18 February, 2020)
The Treaty of Lisbon provided the EU with new competencies and instruments for its foreign policy. For students, civil servants, diplomats and representatives of NGOs it is, therefore, necessary to keep abreast of these competencies and instruments, and of the way they have developed in practice. Besides this, the development of networking and stakeholder analysis are important skills in this policy area.
What will you learn?
       The present and future challenges and developments in EU foreign policy-making.
       Get insight into the most important legal cases of the EU as a diplomatic player and learn how external policies of the EU are organised internally.
       Understand the role of the High Representative and the role of the EU towards other international organisations, like the United Nations, Organisation for Economic Co-operation and Development (OECD) and World Trade Organisation (WTO).
       Acquire the necessary tools and skills to be able to influence EU policy-making at the earliest possible stage.
See full programme here.
For more information on the full winter academy and registration fees, please visit our event page.
About CLEER
Since 2008, the Centre for the Law of EU External Relations (CLEER) aims at providing the tools to understand the multi-faced and intra-disciplinary reality of the law and policy of EU external action. CLEER is a unique repository of legal expertise bridging practitioners with academia, and merging practice with theory. As a network, CLEER is an academic platform for research coordination and cooperation between its members in view of joint events, joint publications, and funding opportunities. It links world-leading EU external relations experts from distinguished universities and institutions in the Netherlands and in Europe. This project is led by Asser researcher Dr Eva Kassoti.
For more information about CLEER click here.