Watch now: 'The fight for human rights: Lessons from Afghanistan' with Asser Institute fellow Nader Nadery
Published 19 August 2022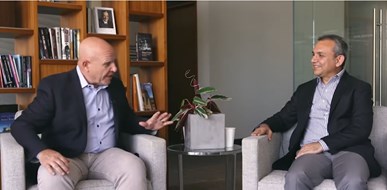 In a really insightful episode of the interview series Battlegrounds (Hoover Institution), Asser Institute Fellow Nader Nadery looks back on the dire situation in Afghanistan, a year after Kabul fell to the Taliban. In the interview Nadery discusses human rights law and explains what might be done to foster peace and protect innocent citizens.
As one of Afghanistan's former top negotiators in peace talks with the Taliban, Nader Nadery is interviewed by former US Lieutenant General H. R. McMaster (Hoover Institution) to share his ideas about the past and future of Afghanistan.
A human rights and democracy activist and former high-level government employee from Afghanistan, Nader Nadery has spent his career building up Afghan institutions and training the professionals to run them, to help save the country from the cycle of coups and military takeovers that have long kept Afghanistan from prospering.
Draconian rule
Educated in Kabul, Nadery lived through the chaos of civil war while in high school in the early 1990s. He was a law student at Kabul University when the Taliban first imposed their draconian rule in the late 1990s. Because of his activism, Nadery was detained and tortured for three months. 
In the Battlegrounds episode, Nadery explains how Afghanistan's history of military changes has undermined the ability of the state to build itself, and how this extends the suffering of the Afghan people.
Watch now: The fight for human rights: Lessons from Afghanistan
About Nader Nadery
Nader Nadery is a senior research fellow at the Asser Institute and a former member of the peace negotiation team for the Afghanistan Doha Peace Process. He also served as chair of the independent Civil Service Commission of Afghanistan and as senior advisor to the Afghan president on public and strategic affairs as well as on human rights issues. Prior to joining the government, Nadery served as director of the Afghanistan Research and Evaluation Unit and for seven years he served as commissioner of the Afghan Independent Human Rights Commission. In December 2021, Nadery was interviewed by the New York Times.
About the series
The Hoover Institution is a public policy think tank that seeks to improve the human condition by advancing ideas that promote economic opportunity and prosperity, while securing and safeguarding peace. Each episode of the Hoover Institution's Battleground series features H.R. McMaster in a one-on-one conversation with a senior foreign government leader to learn 'how the past produced the present and how we might work together to secure a peaceful and prosperous future'. Watch the episode with Nader Nadery.

Nader Nadery LL.M.