What sports law tells you about transnational law
Published 12 July 2019
By Goda Liutkute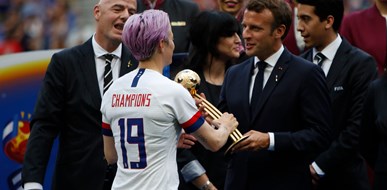 As the FIFA President Gianni Infantino entered the field after the U.S. national team's victory, the fans erupted in "equal pay" chants amidst controversies surrounding female footballers' unfair monetary prizes. But who exactly was supposed to be hearing and addressing this chant?
2019 FIFA's Women's World Cup has challenged many assumptions about women's football. The World Cup also offers a unique opportunity to reflect on sports law as transnational law, as analysed by Asser's Senior researcher Dr Antoine Duval in his latest article "What lex sportiva tells you about transnational law".

FIFA, as an important part of sports' transnational legal regime, often referred to as lex sportiva, is marked by legal complexities, operating at the intersections of the local/global and private/public divides.
A new article by Asser's Senior Researcher Antoine Duval analyses these peculiarities of lex sportiva.  
Sports law as transnational law
With the strict principles of territoriality and sovereignty becoming obsolete in a globalising world, the legal field also needs to move away from state-centric studies and investigate the blurring of the boundaries.
As proposed by Duval, sports offers a fruitful ground to study a concrete instance of transnational law in action. As a term, "transnational law captures the messy process of transnational interactions between multiple actors, norms, and institutions that characterises much of contemporary legal practice", writes Duval.
FIFA's transfer system
Take FIFA and its transfer system as an example. A global transfer market in which football players are traded between clubs takes place every summer and winter. However, the market itself is regulated not only by national labour law or private international law, but also directly subjected to another layer of regulations issued by FIFA.
Interestingly, FIFA itself is merely a private Swiss association, formally indistinguishable from a local chess club. And yet players and clubs across the globe have to abide by the Regulations on the Status and Transfer of Players issued by FIFA if they are to change clubs/employers internationally.  
The reality is even more complicated by the fact that the current system stems from a direct intervention of the EU institutions. In 1995, the then European Court of Justice issued the Bosman ruling which recognised the right of the EU players not to be discriminated against in European football, and at the same time triggered a comprehensive reform of the then applicable transfer regulations. 
The Court of Arbitration for Sport (CAS), which is competent to deal with many transfer disputes, itself refers to EU law in order to interpret FIFA's transfer rules. 
"The FIFA transfer system is […] weaving together EU law, Swiss law (and sometimes other national labour laws) and private regulations," writes Duval.
The anti-doping system strikes back
The World Anti-Doping Agency has adopted the World Anti-Doping Code (the Code), which, as marked by Duval, "is the single global text supposed to rule anti-doping worldwide", while also being "just a piece of paper with no binding value upon states or individuals."
The power of the Code derives from networks of private contracts. A network of various sports governing bodies (SGB) compel their members and members' members (federations and athletes) to comply with the uniform code as a prerequisite to take part in international sports competitions.
Yet, as noted by Duval, "these uniform anti-doping rules are geographically variable and highly dependent on each regulatory level's enforcement capabilities and willingness to implement the Code." The recent Russian doping scandal proves a case in point. But the same Russian scandal does not mean that the Code is irrelevant – rather, it also highlights a kind of feedback loop and the power that SGBs retain in the complex sports regulatory system.
"Local institutions can shape the practical meaning of the Code, but global institutions can also fight back what they believe are pathologic implementations of the Code. […] The world anti-doping system is public-private in essence, but also rather "glocal" than global in practice," argues Duval.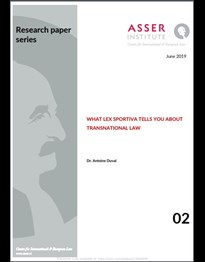 Transnational law as a mindset
When the football fans were chanting for equal pay after the Women's World Cup's final, the main addressee of their demands was a football association with no exceptional legal status, whose remarkable power is intertwined in a transnational legal network involving many actors at many levels.

"Transnational law does not constitute a separate legal order above and beyond national law, but rather embodies the mind-set necessary to see and grasp the complexity of law's transnational practice in a globalising world," observes Duval.

Duval's paper "What lex sportiva tells you about transnational law" is part of the T.M.C. Asser Instituut's own SSRN Research Paper Series. Asser researchers regularly publish research papers and policy briefs on SSRN.
Sports law conference
In October, the Asser Institute will host its third ISLJ annual international sports law conference.  This year's edition will include discussions on the role of athletes in the governance of international sports, the functioning and regulation of the international football transfer market, and the evolution of the Court of Arbitration for Sport and the challenges it faces. Register before (1 September) to claim early bird fee. See the draft programme here.