[International law summer schools] Learn something new this summer
Published 14 July 2022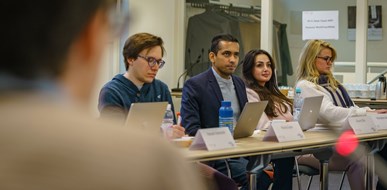 Registration is now open for three unique summer programmes on international law. Register now to advance your career.
Across the world, extremist and terrorist activities have continuously triggered an increase in security-related laws and measures. To prevent terrorism and violent extremism as early as possible, states have grappled with defining terrorism and proscribing terrorist and extreme organisations, introduced early prevention mechanisms and have expanded domestic and international security toolkits to better counter the ever-developing nature of threat. How proportionate and legitimate are these measures? Are they effective?
The T.M.C. Asser Instituut and International Centre for Counter-Terrorism will host the twelfth Advanced summer programme on terrorism, counter-terrorism and the rule of law. In this thought-provoking summer training you will focus on the international and domestic legal aspects of counter-terrorism and counter-extremism, in inspiring and interactive classes by leading speakers in the field. This programme will bring you inspiring and thought-provoking lectures by leading experts in the field, interactive sessions, in-person study visits, group discussions (Chatham House Rules), panel presentations and a great, global network in the field. 
Fee: PhD fee: €1045, Early bird fee: €1395, Regular fee: €1695
This programme is jointly organised by the Asser Institute and the Centre for Sport and Human Rights. The programme is a first of its kind focusing on the link between the governance of sport and human rights, and zooming in on a number of challenges underlying this link, such as the human rights impacts of mega-sporting events, the rights of child athletes, remedies for sport-related human rights harms, and more. 
The programme brings together the latest in academic research with practical experiences from working in the field in an interactive package, fostering productive exchanges between the speakers and participants. Theoretical knowledge will be complemented by exposure to hands-on know-how and concrete case studies, such as the management of human rights and labour rights risks in the context of the Qatar World Cup. Here, you will have the opportunity to learn from experts from the Asser Institute, the Centre for Sport and Human Rights, and FIFPro, as well as high-profile external speakers from both academia and practice.
Fee: € 1.295,00 (Regular price), € 750,00 (Student/NGO), € 995,00 (Early bird - 30 June)
The challenges posed to international security by nuclear, chemical, and biological weapons have recently reached levels of urgency not seen since the Cold War. There is an increasing demand for professionals in the field of Weapons of Mass Destruction (WMD) to tackle the challenges of today's non-proliferation and disarmament agenda with a more integrated understanding of these issues. The Asser Institute in The Hague will host the thirteenth training programme on disarmament and non-proliferation of weapons of mass destruction, co-organised with the Organisation for the Prohibition of Chemical Weapons (OPCW).
During this intensive training programme, you will receive a comprehensive overview of non-proliferation and disarmament efforts regarding WMD. You will learn from renowned experts and practitioners and engage in active discussions about relevant topics and ongoing debates. The programme also provides you with the opportunity to build your professional network and connect with experts in the field, as well as with your fellow participants.
Fee: € 1.495,00 (Scholarships available)
Come study in The Hague, city of Peace and Justice