[Analysis] Dutch Supreme Court rules on the group repatriation of the families of IS fighters: 'We expect that more individual court cases will now be started"
Published 26 June 2020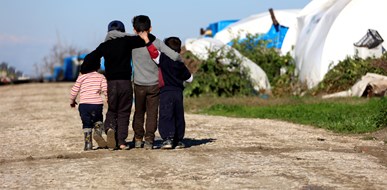 This morning the Dutch Supreme Court (Hoge Raad) in The Hague ruled that the Netherlands does not have to repatriate a group of 23 Dutch women and their 56 children currently detained in Northern Syria.
Asser counterterrorism researchers Dr Christophe Paulussen and Dr Rumyana van Ark have been following the case. Last month, in a series of three international publications Van Ark and her co-authors called for attention to the plight of the many thousands of children of former ISIS fighters that are stuck in prison camps in Syria and Iraq.
Asked for a first reaction to this morning's Supreme Court ruling, Van Ark says: "The Hoge Raad has taken a rather deferential approach towards the government's argument that these children are a threat to national security. In many respects, this ruling is not surprising, as previous jurisprudence within and outside the Netherlands addressing national security matters illustrates. However, in the court's ruling, the 'nods towards individual and case-by-case assessments' do suggest that the court may be open to reaching a different conclusion if the 'right' case with the 'right' set of circumstances presents itself for adjudication, cases with a very vulnerable child, for instance; or if the mother was coerced to go to Syria or Iraq and there is no evidence of wrong-doing."
Individual cases
Paulussen agrees with the analysis of Van Ark. Paulussen: "This judgement applies to the entire group. But it does not exclude that in specific, individual cases, different outcomes are possible. Hence, we expect that more individual court cases will now be started."
Van Ark further thinks this case should not be viewed in a vacuum: "An earlier decision of the court of Rotterdam reached the conclusion that the court will aim for prosecution within the Netherlands of a Dutch woman currently held in Syria (based on letters by the Dutch Justice Minister). The authorities have six months to ensure she is back within Dutch jurisdiction. The sequence of cases suggests to me that individuals could use the 'I have to be tried within the Netherlands, thus need to be repatriated' argument".
Jeopardising national security
Paulussen finds how the Dutch government uses the argument 'threat to national security' surprising. Paulussen: "In 2018, the NCTV (Dutch National Coordinator for Security and Counterterrorism) already stated that although there are certainly risks involved with the repatriation of adults, these risks are more controllable. And in the same memo, the NCTV stated that there are in fact more risks for national security if we do not bring back the children."
Paulussen adds that the Supreme Court has applied a 'limited view' on the extraterritorial application of human rights treaties. Paulussen: "Today's decision of the Hoge Raad is at odds with the views of many legal scholars, prosecutors, security experts and child care specialists, as well as international organisations, that have all urged for repatriation and possible prosecution as the best way forward from an international legal, security, as well as moral point of view."
Further reading
Rumyana van Ark and Christophe Paulussen are part of Asser's research strand Human Dignity and Human Security in International and European Law which adopts as its normative framework a human rights approach to contemporary global challenges, inter alia in the fields of counter-terrorism, especially with regard to the topic of foreign (terrorist) fighters, international and transnational crimes, new technologies and artificial intelligence, and historical memory.
Upcoming: Advanced summer programme on terrorism, counter-terrorism and the rule of law (24-28 August 2020)
Are you working in the field of counter-terrorism or aiming to? Interested in the effects of citizenship stripping? Join our online Advanced summer programme on terrorism, counter-terrorism and the rule of law, which is coming back for the 10th time to bring together top experts, academics, and policymakers from around the world working in the field of counter-terrorism. The summer programme will take place on 24-28 August 2020.
Click here to see last year's reviews (video) and sign up to profit from the Early Bird fee.