[New book chapter] Autonomous weapons
Published 23 March 2023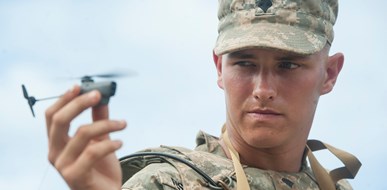 In a new book chapter forthcoming with Edward Elgar Publishing, Magdalena Pacholska demystifies autonomous weapons systems (AWS); identifies the main legal issues they might possibly pose and offers possible solutions. The chapter is designed to serve as a cheat sheet for both experts and the general public looking for an overview of this increasingly complicated debate.
Magdalena's book chapter offers an overview of terms and concepts key to understanding the field, as well as the current technology available in military equipment. She reflects on the ongoing work of the group of governmental experts on lethal AWS held under the auspices of the United Nations Convention on Certain Conventional Weapons, and its reception in scholarship. Finally, she zooms in on the pivotal legal question of attribution of responsibility for internationally wrongful conduct resulting from the combat employment of AWS.
Commander's duty to employ weapons in accordance with IHL
Magdalena argues that existing international law, if duly applied, remains more than sufficient to attribute responsibility for the existing weapon systems with autonomous functionalities. She also claims that anthropomorphising AWS by examining how the weapons themselves, rather than the conduct of armed forces that deploy them, can comply with international humanitarian law actually risks blurring the existing norms.
Nonetheless, she highlights that there is immense intrinsic value in civil society and academia engaging in international debates on pressing international humanitarian law issues. However, the conversation around humanitarian concerns related to a specific weapon, means or method of warfare needs to be done without unnecessarily demonising the technology at hand.
Read the pre-print of her upcoming chapter on SSRN – where it reached SSRN's Top Ten download list for a number of legal and security areas on the first day.
Pacholska, M. 'Autonomous Weapons.' Forthcoming in: Brożek, B., Kanevskaia, O. & Pałka, P. (eds.), Research Handbook on Law and Technology, Edward Elgar (2023).
[Spring academy] Artificial intelligence and international law
Magdalena will be lecturing at the spring academy on the operational perspective of military applications of AI. The Asser Institute's Spring academy artificial Intelligence and international law, is an annual interdisciplinary programme offering in-depth perspectives on AI and international law. It addresses fundamental issues at the intersection of theory and practice. The programme will cover the technical aspects of AI, the philosophy and ethics of AI, human rights in relation to AI, AI in international humanitarian law, AI and international responsibility and international governance. The spring academy provides an ideal venue to help you understand these aspects of AI through a short interactive course with plenty of room for discussion with your fellow multidisciplinary participants. Read more. 
Read more about autonomous weapons
Military Artificial Intelligence and the Principle of Distinction: A State Responsibility Perspective in an article for the Israel Law Review, Magdalena Pacholska argues that while some military AI technologies may indeed cause a range of conceptual hurdles in the realm of individual responsibility, they do not raise any unique issues under the law of state responsibility.
State responsibility in relation to military applications of artificial intelligence
Asser Institute senior researcher Dr Bérénice Boutin explores the conditions and modalities under which a state can incur responsibility in relation to violations of international law involving military applications of artificial intelligence (AI) technologies.

Retaining human responsibility in the development and use of autonomous weapon systems: On accountability for violations of international humanitarian law involving AWS
In a report for the Stockholm International Peace Research Institute (SIPRI), Asser Institute researcher Marta Bo (together with Laura Bruun and Vincent Boulanin) tackle how humans can be held responsible for violations of international humanitarian law involving autonomous weapons systems.