[ICL-TCL training] 'Strengthening domestic capacity to prosecute and adjudicate international and transnational crimes in Africa'
Published 18 February 2021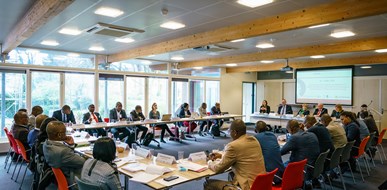 The week of 8 March 2021 marks the start of a new training on International Criminal Law (ICL) and Transnational Criminal Law (TCL), co-organised by the T.M.C. Asser Instituut, the Antonio Cassese Initiative and the International Nuremberg Principles Academy. The high-level training course for national judges and prosecutors aims to strengthen domestic legal capacities in French-speaking African countries that face challenges in the administration of justice. 
In the past forty years, the international criminal justice system has witnessed significant progress with the establishment of the International Criminal Court (ICC) and several ad hoc international criminal tribunals, which prosecute those responsible for genocide, war crimes, crimes against humanity and other atrocities and serious humanitarian violations that threaten the international community.
Despite these developments, however, the primary responsibility assigned by international law for the prosecution and prevention of international crimes remains with states. Therefore, to combat impunity and provide access to justice for victims, to prevent crimes and promote the rule of law, the role of national prosecutors and judges is fundamental.
A complex endeavour
Applying international criminal law at the national level, however, is often a complex endeavour. International criminal law is a relatively young discipline in the global legal field.
National investigators often face difficulties when working on cases involving crimes of international nature. These crimes take place in remote areas, entail large-scale atrocities with a nexus of different perpetrators and they often involve a very complicated evidence-collection process.
Moreover, crimes may involve persons who are still occupying high-level governmental or military functions, which increases the difficulty for judges to guarantee the independence of their institution in such a context. As Jerôme de Hemptinne, professor at the Geneva Academy of International Humanitarian Law and Human Rights and a former senior legal officer at the Special Tribunal for Lebanon, says: "In fact, you have to be very courageous to try these war crimes and crimes against humanity."
Empowering judges & prosecutors
The high-level ICL-TCL training, which is taught in French, aims to empower judges and prosecutors from French-speaking African countries to deal with international and transnational crimes. 
It further aims to
Enhance their ability to protect human rights, including fair trial rights as enshrined in international instruments,
To ensure effective cooperation with the ICC and other international criminal tribunals, and;
To increase cooperation among national judiciaries.
Participants in the ICL-TCL training are judges and prosecutors from countries that are dealing with fragile or weak judicial sectors, as well as ICC situation countries and countries that are facing challenges prosecuting international and transnational crimes, including terrorism. In the past two years, participants came from Mali, Côte d'Ivoire, Congo, Burkina Faso, Niger, Democratic Republic of the Congo, and Togo.
The ICL-TCL training features a number of top speakers coming from international courts and tribunals in The Hague and several academic and professional institutions and organisations focusing on ICL and TCL. Past training cycles included honoured guests such as Judge Abdulqawi A. Yusuf, the recently elected president of the International Court of Justice, and Judge Guénaël Mettraux from the Kosovo Specialists Chambers.
The first ICL-TCL training cycle took place during 2018-2019 and consisted of three parts:
A one-week training in February 2018, The Hague;
E-streaming sessions and
A follow-up training in March 2019, The Hague.
A second training cycle kicked off in 2020:
With a one-week training in February 2020, in Arusha, Tanzania and;
And the current online follow-up training in March 2021. 
Read the final programme for this year's training here.
Read more
Prosecuting international and transnational crimes requires domestic capacity: Asser trains magistrates from French speaking African countries
Video
Video interview with former ICL-TCL training participant Bakayoko Ibourahema, advocate general at the Court of Appeal in Abidjan (Ivory Coast), on the challenges national magistrates face when confronted with issues of International Criminal and Transnational Criminal Law.
This project is led by Dr. Marta Bo on behalf of the Asser Institute and the Antonio Cassese Initiative and by Natacha Bracq on behalf of the Nuremberg Academy. The project receives financial support from the Netherlands Ministry of Foreign Affairs (as part of the Orange Knowledge Programme of NUFFIC) and the Dutch Embassy in DRC. 
For more information on this project, please contact Maria Sperling: projects@asser.nl