New Year's resolutions? Our winter academies will help you stay ahead in 2020
Published 11 December 2019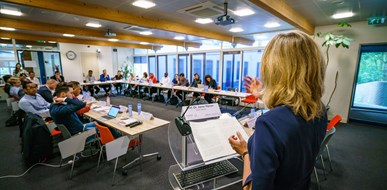 Sign up now to advance your career! Registration is open for our unique 2020 winter academies.
In the second edition of our highly successful, unique and innovative winter academy on artificial intelligence and international law, top speakers will give you the latest insights into the current and future issues raised by AI from the perspective of international law. The winter academy offers you foundational knowledge on key issues at the interface of international law and artificial intelligence, and provides a platform for critical debate and engagement on emerging questions. The programme is structured along five themes: Understanding AI, AI for good, AI and armed conflict, AI and responsibility, and AI governance. The winter academy is designed for policy makers, professionals and academics working on issues related to AI and international law. Have a look at the programme here. For more information or to register for the training programme click here.
The 2020 edition of the Doing Business Right winter academy will dive into human rights due diligence. In this training programme, we will retrace the genealogy of the concept of due diligence, investigate its theoretical underpinnings, and provide the participants with a comprehensive understanding of its practical operation through specific case studies conducted by experienced practitioners. Through a blending of theory and practice, we equip our participants with the necessary knowledge and know-how to engage with the growing practice of due diligence in their daily work at NGOs, corporations, administrations or in academia. The winter academy is a platform for (future) business and human rights professionals to meet and exchange on the latest developments in the field with a team of leading experts. To see the final programme click here, and for more information or to register click here.
Sign up now, and join us to experience, engage & explore
Experience the practicalities of international law during programme-related study visits
Engage with top-level speakers and participants from diverse professional backgrounds (i.e. academics, diplomats, lawyers, policy-makers, etc.)
Explore The Hague - the City of Peace and Justice.