[ Asser news ] Handover ceremony of unique inter-university programme in Lebanon
Published 8 December 2020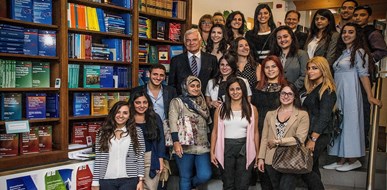 For nearly ten years the Special Tribunal for Lebanon (STL) has supported a unique inter-university programme on international criminal law in Lebanon. Eleven Lebanese universities and the T.M.C. Asser Instituut cooperated within the project. The programme has been called 'the best attempt towards reconciliation in Lebanon'. More than a thousand students have graduated in the last decade. The programme is now continued by the Asser Institute and the International & Transitional Justice Resources Center (ITJRC).
Handover ceremony
Monday 7 December the project was handed over to the Asser Institute and the ITJRC. The ITJRC is representing the eleven Lebanese universities. The online ceremony was attended by the STL's current and former President, Acting Registrar, Head of Outreach and Legacy, deans, (former) students and representatives from ITJRC.
Asser academic director Janne Nijman also spoke, thanking the STL for its support. 'As I've said many times this programme is close to our hearts. As a research institute we do not only want to excel in conducting research, but also excel in serving societies with our knowledge and that of our experts. This programme, we modestly hope, will help Lebanon in shaping its future through values such as collaboration, justice and fairness.'

Unprecedented programme
Nearly ten years ago, the programme was set up to enable law students from eleven different universities in Lebanon to follow lectures on international criminal law and procedure together. There was no specialisation in international criminal law offered at any Lebanese university prior to that time. The programme was the first of its kind, and unprecedented in the Middle East and North Africa region.

Prominent academics and practitioners in the field were asked to participate. The lectures were streamed online from the Asser Institute to the lecture halls in the participating universities in Lebanon. As this happened in pre-corona times, it was very innovative. The first lecture took place in November 2011. Since the start of the programme, more than 1000 students have graduated, and international criminal law has become an integral part of their legal vocabulary. In 2019 alone, over 450 students enrolled and attended the course.
Flagship
Professor Georges Masse of the American University of Science and Technology in Beirut described the programme as 'the best attempt towards reconciliation in Lebanon, because it brings together universities and students from different backgrounds'. On the day of the handover, the STL issued a press release indicating that its 'flagship outreach programme...represents one of the STL's lasting legacies in Lebanon'.