"A Tale of Two Cities": The Roles of Geneva and The Hague, two UN cities, in Driving Global Justice
Published 11 June 2018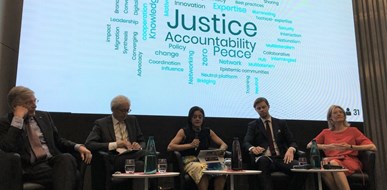 What role do Geneva and The Hague, two UN cities, and their professional communities play in contributing to peace, human rights and international justice? This question was discussed on June 7th, 2018, at a Hague Talks event in Geneva organised by the Dutch Permanent Mission in Geneva and the Municipality of The Hague.
The event brought together speakers from both Geneva and The Hague, to explore and highlight the role of these two UN Cities in linking research to policy in the areas of peace and justice.
Speakers list included Prof. Dr. Rolph van der Hoeven ( Professor of Employment and Development Economics at the Institute of Social Studies (ISS) and International Advisory Council (AIV) of the Dutch government), Prof. Em. Dr. Willem van Genugten (Tilburg University, North-West University South-Africa,), Chris Earney (Co-founder of UNHCR Innovation service), and Janne Nijman (Academic Director of T.M.C. Asser Instituut).
Janne Nijman, called for "Innovative collaborations of Geneva and The Hague" since "the world's problems do not allow us to work in silos." Rather than rivalry between the cities of Geneva and The Hague and their (research) institutions, she argued there should be complementarity and collaboration to face humanity's global challenges. After all, international humanitarian law cannot do without the procedures and institutions that are part of the field of international criminal law, while international investment law and arbitration will have to take human rights law on board.
International law and governance cannot deliver when they operate into specialised silos. Nijman pointed to how today – after many years in which this was different - the Hague-based International Court of Justice takes "Geneva-generated" international human rights and humanitarian law into account when implementing international law.
To realize peace and justice in the world, we need more collaboration. Thank you @JanneNijman @HebaJournalist @ChrisEarney Rolph van der Hoeven and Willem van Genugten for the inspiring #Haguetalks in #Geneva pic.twitter.com/NzPyFlMDSh

— NL Mission in Geneva (@NLinGeneva) 7 June 2018
When asked 'to what extent policy and legal practice hubs like Geneva and The Hague are disconnected from the realities in the field?' Nijman recognised the risk of disconnection and referred to the current backlash against multilateralism as a case in point. People do not feel the value of the international legal and institutional architecture that was shaped in the course of the last 100 years in both The Hague and Geneva (and New York) is evident. This said, knowledge institutions such as the Asser Institute, the Graduate Institute (where Nijman is also currently a visiting professor) and the Geneva Academy, aim to lead on bringing and keeping this architecture up-to-date. For example, researchers of the Graduate Institute and the Asser Institute start a multi-annual joint research project on autonomous weapons and international criminal law this summer. Just recently, the Asser Institute organised a panel discussion with the ICRC on 'The Role of International Criminal Law in Fostering Compliance with International Humanitarian Law: Past and Future Perspectives'. "It is a prime objective of the Asser Institute to bring together the ICL and IHL professional communities and organise high-level discussions to contribute to law and policy innovations and make sure our cities' ambitions truly improve peoples' lives on the ground," said Nijman.
The event brought together speakers from both Geneva and The Hague, to explore and highlight the role of these two UN Cities in linking research to policy in the areas of peace and justice.
Hague Talks is a series of event organised by the Municipality of The Hague to look at peace and justice from different angles, and serve as a point of departure for fruitful discussions and action plans.