[Interview] Visiting researcher Kathleen Claussen: 'Sustainability, trade and security go hand in hand'
Published 27 March 2023
By Melanie Schneider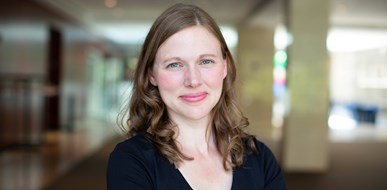 Professor Kathleen Claussen (Georgetown University Law Center), is a visiting researcher at the Asser Institute through June 2023. Claussen is the author of more than forty articles and essays on trade, investment, and international dispute settlement. She has been counsel and arbitrator in international disputes and is co-editor-in-chief of the Journal of International Economic Law. "More governments around the world are thinking about how to protect labour rights in trade agreements. What should these labour rights be, and what are the tools to ensure that labour rights are enforced and complied with?" An interview.   
 What is the main research project you are working on during your time in The Hague?
"I am working on two main projects. The first is a project that relates to trade, social sustainability, and security. We do not always think of those three subjects together, but they go together very well. Sustainability and trade, for instance, are increasingly connected to security when we think about resilience. The US policy on inflation reduction, for example, has environmental provisions connecting trade and the environment to US national security. Another example would be the production of semiconductors here in the Netherlands: Having the ability to make semiconductors locally is important for both our security and our trading relations.
Sustainability, security and trade, and their intersections, are also clearly front and centre in all the policymaking we are seeing in cross-border commerce. They turn up in conversations about globalisation coming out of the Covid pandemic, and in the thinking about the various conflicts around the world. I think that now is the time to be looking at the institutional design surrounding these issues, and at the opportunities for cooperation with different governments on them."
Protecting labour rights
I am actually studying two different pieces of the labour and trade story: One piece is on the new mechanisms that we are seeing in trade agreements for protecting labour rights. More and more governments around the world are thinking about how to protect labour rights in trade agreements. What should these rights be? And what tools could be used to ensure that these labour rights are enforced and complied with? This is the institutional design question I am working on.
But I also run a working group on forced labour, where we look at other mechanisms that governments are considering. These mechanisms are usually not part of trade agreements, but they are instead styled as 'trade tools'. This fits together very well with the due diligence tools that we increasingly see, mostly in Europe, but also in the US, where the same questions and legislation are at play." 
"The second project that I am currently working on is SAILS, a consortium on the Study and Analysis of International Law Scholarship, that I run. In this group, more than two dozen researchers from around the world examine how international law journals are interfacing with the field of international law. Questions under review are for instance: what is getting published, who is getting published, what is getting cited in international law cases, and how do practitioners rely on and work with academic publications?
As scholars, we rarely think about those relationships. We seldom step back and look at the space we are publishing in. This means that we don't really evaluate networks that are created, for example, or look at the history of how we came to have all these journals. In the US, for instance, there are more international law journals than any other type of specialised area of law. Why is that? Does this mean that international law is exceptional within the rest of law? And what are the implications for other lawyers doing international law in the field? Sometimes we hear that international law is not really law. Are we reemphasising that perception if we put it apart in some journal? Those are the conceptual questions that the SAILS project studies, and I think that some introspection and a re-evaluation of what we might do differently could be relevant for all international law scholars. In May 2023, the SAILS project will host a symposium on this in the Peace Palace Library here in the Hague." 
Why did you choose the Asser Institute as a visiting researcher?
"Because of the great work on international law that is happening here. For me, there is not enough connection between the economic side - which is my usual sandbox - and the other areas of law. The work at the Asser Institute covers a lot of different areas, and I am benefitting from the engagement with the terrific researchers here. There is an upcoming programme on due diligence in the European context, for instance, which we in the United States do not really hear about. So, being able to work with Asser researchers on that particular project is an asset to me. 
Then there is also the location of the institute in The Hague, near the Peace Palace Library and the ICJ Library, for my work on SAILS. When I am working on EU trade law and EU-US relations, it is easy to get to Brussels. The policymaking community in The Hague is also a great asset. In fact, for the labour and trade project, the Asser Institute is very kindly hosting a workshop with embassy officials. That is unique to The Hague, where you can have research and practice combined." 
What has been your proudest or most challenging moment as a professor of law thus far?
"Seeing students succeed is gratifying for any professor. Often, students who take my classes do not have any background in or knowledge of international economic law. They come in and maybe think my class is about mergers and acquisitions. Or they think it is about finance. And sure, we can talk about those things. But then a whole different world opens up that they did not know about before, and they become deeply engaged in it. For me, the proudest moment is to see students embrace this area of law, pursue work in this field and then return to speak to my students and pay it forward." 
Why did you choose to study international (or European) law?
"During my undergraduate degree, I had thought about law school. But I was not entirely sure if the path of law school was the right one for me. So, I came to Europe on exchange and was a student in Denmark, where I took a class on international law. I had a great professor who inspired me to continue in that area of law, and from there the rest was history…. My specific interests within the field of international law did change along the way, though. I started in international criminal law, and then became interested in human rights and interned at the International Criminal Court before I went to law school. Then, over the years, I switched to the economic side, after taking an investment law class in law school. But that initial push to international law was from an inspiring professor." 
If you were to offer advice to young academics, or legal scholars wishing to enter into the field you are in now, what would it be?
"I have three points of advice. The first point is to be flexible. You never know what is going to come down the road. I always tell students to take classes in areas of law that they might not like or know anything about because it might surprise them. Having that flexibility to try new things and being open-minded about what you are willing to do is important, regardless of what field you end up in. The second point is to realise that a lot in life happens by chance. So, being able to respond when new doors open and not being so concerned when other doors close, is important, as another door will always open. The last point is very practical: coffee. Perhaps not drinking it (although you can if you wish!), but having a "coffee" in the figurative sense; meeting up with people. I know that many people would give this advice, but just to put this very concretely: I once met with someone about a job that she had previously had, and I wanted to know more about it. That coffee then turned into a new job opportunity for me at her new workplace. So, always take a coffee if you can manage to do it. You never know - if you are flexible enough, and with a little bit of chance, coffee could lead to great things." 
About Kathleen Claussen
Professor Kathleen Claussen is visiting researcher at the Asser Institute. She is professor of law at Georgetown University Law Center, and the author of more than forty articles and essays on concerning trade, investment, and international dispute settlement, among other related research areas. She has acted as counsel or arbitrator in over two dozen international disputes and is co-editor-in-chief of the Journal of International Economic Law. Prior to joining the academy, Kathleen Claussen was associate general counsel at the Office of the U.S. Trade Representative. Earlier in her career, she was legal counsel at the Permanent Court of Arbitration in The Hague.
[Spring academy] The European turn to sustainability due diligence: From concept to obligation
03 - 06 April 2023
Gain insight into the origins and implications of the growing movement to corporate sustainability due diligence and decode the specificities of different national due diligence obligations, how corporations are conducting due diligence processes, and how courts and other actors are assessing due diligence processes at our spring academy 'The European turn to sustainability due diligence: From concept to obligation' (3-6 April 2023). Read more.