Watch the full annual Asser lecture by Prof. Anne Orford
Published 29 November 2019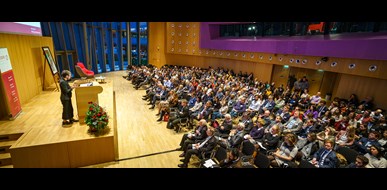 Prof. Anne Orford addressed a room packed with guests at our Fifth Annual T.M.C. Asser Lecture on November 28 at the Peace Palace in The Hague. In her speech, Orford said that international treaties need to be more social, democratic and ecological so that they serve not only the interests of companies but also of citizens and governments. 




Marriët Schuurman, Director Stabilisation and Humanitarian Aid (MFA) delivered a speech on behalf of Minister Sigrid Kaag during which she highlighted the importance of implementing the Sustainable Development Goals (SDGs) to achieve a more inclusive, righteous and sustainable world. 
You can now watch the video of Orford's full lecture below:
Further reading
Prof. Anne Orford spoke to Dutch newspaper NRC about the need for a fundamental 'decolonisation of international law' as we know it. In an interview with NRC journalist Caroline de Gruyter, Orford called for international treaties to be more social. To read the full article (in Dutch) click here.

Asser Institute researchers Taylor Woodcock, Dr Antoine Duval and Dr Dimitri Van Den Meerssche had the opportunity to interview Prof. Orford for international law blog OpinioJuris. A conversation on 'the material roots of populism and the potential for a progressive politics of international law, featuring the Wizard of Oz and the Garden of Eden.'