Back Home Action Plans under the Spotlight in Tunis
Published 15 March 2018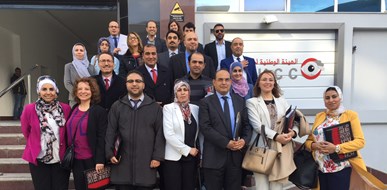 Judges, public prosecutors and civil servants from the MENA region participated in the follow-up to the Shiraka training programme in Tunis from 5–7 March 2018. The first part of the training on the Administration of Justice took place in The Hague from 13-20 November 2017. Participants came from nine countries: Egypt, Iran, Jordan, Libya, Morocco, Palestinian Territories, Qatar, United Arab Emirates, and Tunisia. Inspired by lectures on the Dutch judicial system and study visits to national and international courts during the first part of the programme, the participants prepared Back Home Action Plans (BHAPs) with a view to sharing the knowledge they acquired in the Netherlands with their counterparts in their home countries as well as triggering changes and reform.
The most important aim of the follow-up meeting, which is traditionally hosted by one of the participating countries, is to discuss the implementation process of the BHAPs; to share stories of success as well as challenges faced. The BHAPs covered a wide variety of topics: judicial time management, measuring the workload of courts, introducing a system of legal aid, resolving conflicts of jurisdiction between courts, and introducing an independent and private law enforcement agency. The presentations were followed by lively discussions commenting on how the respective issues are handled in different countries as well as suggestions for future actions.
A by-product of organising the follow-up meeting in the region is to learn about the constitutional history, institutions and judicial system of the host country. The meeting in Tunis was significant as Tunisia is considered the most successful example of democratisation in the aftermath of the Arab Spring. Participants had the privilege to attend a lecture on Tunisian constitutional history, learn about the establishment of Tunisia's Supreme Judicial Council (Conseil Supérieur de la Magistrature) in 2015 - an institution indispensable for the independence of the judiciary - as well as visit the newly established Authority for Fight against Corruption.
All presentations, lectures, and visits took place in a sphere of collegiality in which respective opinions, experience, and comments were openly shared. Participants established both professional and personal links that we hope will last a lifetime. The programme was concluded by a speech of the Dutch ambassador to Tunis, Mr. Hans van Vloten Dissevelt, who personally handed the participants their certificates for successfully completing the training.