Global Justice Cinema: where film meets international justice
Published 19 December 2019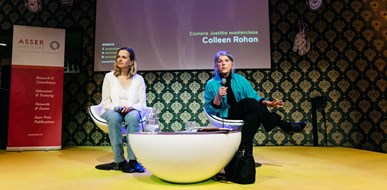 Registration is open for our workshop on Documentary Film and World Politics, an annual event co-organised by T.M.C. Asser Instituut, VU Amsterdam & Movies that Matter Festival. The workshop will take place between 24-26 March 2020 at the T.M.C. Asser Instituut and the Movies that Matter Festival.
Global Justice Cinema workshop
Activists and journalists use cameras to document human rights violations; teachers use documentaries to educate on international law and world politics whereas NGOs and international organisations use video as a highly effective communication tool. Film is a very powerful medium in the field of global justice. For the workshop Global Justice Cinema, VU Amsterdam and T.M.C. Asser Instituut - specialised in international law and justice - join forces with human rights film festival Movies that Matter. 
In this workshop, you will learn to critically view and assess global justice films. You will get familiar with film as a source of knowledge, as a powerful tool to create impact with and as an object of critique. Moreover, we will discuss the value of documentary films for education and communication purposes. The workshop Global Justice Cinema will give you the best of both worlds: you will get great lectures in film and international justice by professors at the Asser Institute. In addition, you get to see the latest international rights films, plus the chance to meet filmmakers and activists at the Movies that Matter Festival, in The Hague, city of Peace and Justice.  
Sofia Stolk, researcher at T.M.C. Asser Instituut and coordinator of the Camera Justitia programme at the Movies that Matter Festival, told us: "In last year's workshop our participants were a very diverse group, including film students, law professors, NGO staff and communication specialists. It was extremely rewarding to sit together and share our different experiences and perspectives on human rights and international law by way of critically viewing and analysing documentary films. We had the unique opportunity to personally engage with filmmakers and prominent international lawyers at the Movies that Matter festival and to directly feel and see the impact of film in the field of global justice."
For more detailed information about the event and to register, click here.
About the Imagining Justice project
The Imagining Justice project is part of Asser research strand 'Dispute settlement adjudication in international and European law', which explores new, alternative and interdisciplinary methods for analysing fundamental changes in international courts and tribunals and in international law itself.