[Policy brief] 'Third Revised Draft Treaty on Business and Human Rights: Comments and Recommendations'
Published 25 October 2021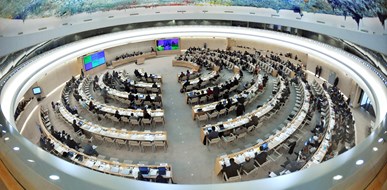 The business and human rights treaty needs to be much better aligned with lessons learnt from other relevant fields. That is including the broader business and human rights fields, private international law, and criminology, states a new policy brief by the T.M.C. Asser Institute. The 3rd revised draft of the legally binding instrument to regulate, in international human rights law, the activities of transnational corporations and other business enterprises, was published in August 2021. This text is based on a series of consultations and inter-State negotiations that have taken place since 2014. Early October, the Asser Institute hosted an expert meeting to discuss the revised draft, based on which an inter-university group of academics prepared a policy brief.
In 'Third Revised Draft Treaty on Business and Human Rights: Comments and Recommendations', the authors consider a selection of three policy areas that relate to questions at the heart of the treaty. That is prevention and due diligence; liability and regulation; and access to remedy. It focuses on a number of issues. For instance, the divergences between the current treaty and the UN Guiding Principles on Business and Human Rights and the mismatching of the right to remedy and the obligations on access to remedy and liability. The treaty is also likely to collide with the principles of private international law. Furthermore, lessons taken from the legal and administrative prevention and control measures adopted by States are taken into account.
The current brief is not an exhaustive response to the various revisions made in the third draft. While numerous political controversies surround the treaty, the focus is on analysing its utility, where it was adopted, in responding to corporate human rights abuses. The main parameters of the treaty are relatively settled, so the feedback focuses on suggestions consistent with the current paradigm. The first section of the brief focuses on the areas of incoherence within the third revised draft. The second section proposes recommendations going forward.
Four recommendations are put forward for the next round of negotiations occurring this week:
to align corporate obligations with the UNGPs
to move beyond 'prevent and punish' paradigms towards 'remedy and governance',
to move back to a more principle-based approach rather than creating new regulatory regimes,
and focusing on a more holistic approach to reforming corporate culture with regard to the role of the corporation.
Further reading
Read the full policy brief in which Ben Grama, Antoine Duval, Annika van Baar, and Lucas Roorda articulate their critique of the third revised draft of the business and human rights treaty and put forward recommendations for how the treaty negotiations going forward. The authors are part of the business and human rights working group of the Netherlands Network for Human Rights Research, which was launched at the Asser Institute in 2017. This policy brief follows an expert consultation between NGOs and academics held at the Asser Institute on 7 October.