Exclusive interview with Martti Koskenniemi on international law and the rise of the far right
Published 13 December 2018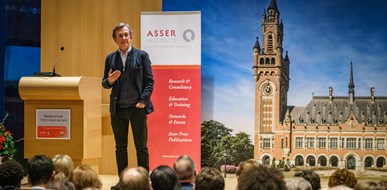 In an exclusive interview in Opinio Juris by Asser researcher Dimitri van den Meerssche, Prof. Martti Koskenniemi critically reflects on the general state of international law, as well as its role in the rise of the far right.
Prof. Koskenniemi describes how international law changed in the 20th century from "the mindset of formalism to a managerial mindset". This culminated in the 1990s, when international law transformed into an expert discipline, "pushing a number of global agendas", says Prof. Koskenniemi, who believes the rise of the anti-globalist far right is linked to that development.
While Prof. Koskenniemi agrees that there is a "backlash" against globalisation, he disagrees with the liberal mainstream interpretation that views it as originating from those "left behind". In the interview, he also addresses how fake expertise has contributed to a sense of crisis in international law, and discusses his current historical work.
Keynote speaker
"International Law and the Far Right: Reflections on Law and Cynicism" was also the title of Prof. Koskenniemi's presentation at the Fourth Annual T.M.C. Asser Lecture in the Peace Palace, where he was the keynote speaker. In his lecture, Prof. Koskenniemi provided an alternative interpretation for the 'backlash', tying it to cultural anxiety and the loss of white male privilege.
We created a short video about the event:

A full recording of the lecture is available here:

Click here for the interview in Opinio Juris. If you do not want to miss next year's Annual Lecture, sign up for our newsletter.