Speaker Anne Orford: "International treaties can and must be more social"
Published 26 November 2019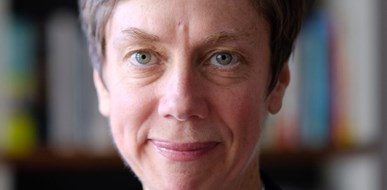 Ahead of her Fifth T.M.C. Asser Lecture on Thursday November 28, Prof. Anne Orford spoke to Dutch newspaper NRC about the need for a fundamental 'decolonisation of international law' as we know it. In an interview with NRC journalist Caroline de Gruyter, Orford called for international treaties to be more social. 
"International law is under attack from all sides. Trump and populists on the left and right are not the only ones who shoot at it. Even within the international law sphere itself, people are finally waking up," says Orford. She sees the withdrawal of the US from international forums and treaties as an excellent opportunity to reform international law. Orford: "We had Occupy Wall Street, and now we need some kind of Occupy Law."
According to Orford, international treaties need to be more social, democratic and ecological, so that they serve not only the interests of companies, but also of citizens and governments. Orford: "I am optimistic. Academics, lawyers and policy makers experience this as a key moment. Everything is back on the table: fundamental assumptions about the international legal order, about the way in which you deal with negotiations and arbitration, and the relationship between existing treaties and national interests and values. Ten years ago nobody was talking about this. Now it is at the top of the agenda."
To read the full article (in Dutch) click here.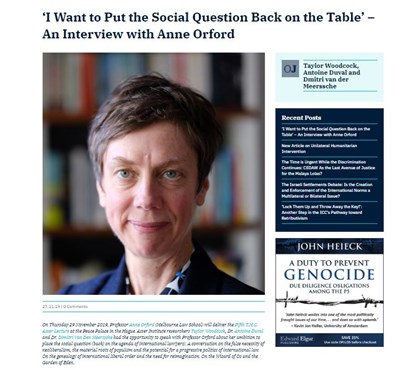 Asser researchers interview Orford for the OpinioJuris
Asser Institute researchers Taylor Woodcock, Dr Antoine Duval and Dr Dimitri Van Den Meerssche had the opportunity to interview Prof. Orford for international law blog OpinioJuris. A conversation on 'the material roots of populism and the potential for a progressive politics of international law, featuring the Wizard of Oz and the Garden of Eden.' 
About the Fifth T.M.C. Asser Lecture 2019
In our Fifth T.M.C. Asser Lecture entitled: "International law and the social question", Prof. Orford puts the social question back on the international law table. How might international economic law-making and adjudication be re-embedded within political processes? And how can foundational political questions about property, security, survival, and freedom be returned to democratic control? According to Prof. Orford, the current situation of people who are dispossessed or impoverished by economic liberalisation, and the exhaustion of the world's resources have become inescapable barriers to the continuation of 'global business as usual'.
For more information about the Fifth Annual T.M.C. Asser Lecture 2019 and to register click here.