Lessons in justice: Asser's educational programme with the Special Tribunal for Lebanon celebrated
Published 15 April 2019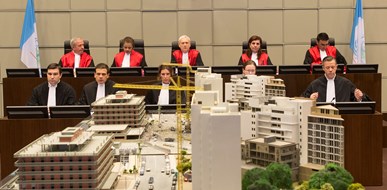 Justice is often understood as court-bound: it is either that the perpetrator is found guilty or not. However, a training course on criminal justice for Lebanese students co-organised by the Asser Institute and the Hague-based Special Tribunal for Lebanon shows that justice-building can also take place outside of the courtroom. In a recent article, Anna McMillan wrote about the potential of the inter-university programme for Lebanese law students, which the two institutes co-organise.
 In 2005, a terrorist attack in Lebanon killed then Prime Minister, Rafik Hariri, and 21 others. In response to the attack, the United Nations established the Special Tribunal for Lebanon (STL) in 2009 to investigate and prosecute the perpetrators of this crime. Based in the Netherlands, the tribunal is expected to conclude its work this year. While the final verdict is still unknown, we can already witness other contributions the STL has made in the Lebanese society.
 Training future generations
In 2011, the STL and the Asser Institute worked together to establish an inter-university programme on international criminal law and procedure. Streamed from the Asser Institute in The Hague, the programme features lectures by prominent practitioners and academics and is offered to the students of 11 Lebanese universities.
The training is unique in its scope and results. More than 800 students have already graduated the programme, and international criminal law has become an integral part of their legal vocabulary. Importantly, the course also brings different Lebanese universities together, transforming the Lebanese academic and legal landscape in general. Professor Georges Masse of the American University of Science and Technology in Beirut described the programme as 'the best attempt towards reconciliation in Lebanon, because it brings together universities and students from different backgrounds'.
A special event
On Wednesday April 17th, the Asser Institute is organising a special Supranational Criminal Law (SCL) lecture entitled "Taking stock of the international criminal justice project: deficient or sufficient?". Ms Olga Kavran, the STL's Head of Outreach and Legacy, will be one of the three experts speaking at the event. Her topic is 'The Development of Justice: International Criminal Courts and the Right to Information'.
For more information or to register click here.