Sign up now for our upcoming training programmes
Published 4 April 2019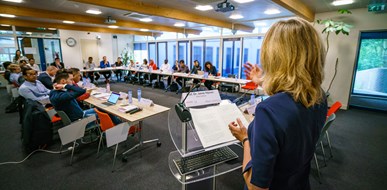 In cooperation with (inter) national partners such as American University's Washington College of Law, University of Amsterdam, Leiden University, ICCT and OPCW, we deliver four unique 2019 training programmes. Sign up now to advance your career!
International Criminal Law and International Legal & Comparative Approaches to Counter-Terrorism (27 May - 20 June 2019)
Are you interested in international criminal law and in (legal aspects of) counter-terrorism? Then register now for the 13th Annual Summer Law Programme on International Criminal Law and International Legal & Comparative Approaches to Counter-Terrorism in The Hague, from 27 May - 20 June 2019. As part of a unique collaboration between the War Crimes Research Office of American University's Washington College of Law and the T.M.C. Asser Instituut, forty selected students from top US law colleges and universities will visit The Hague this summer, to learn from international legal practitioners and scholars, and to visit (inter)national courts and institutions. We have a few places for law students and professionals who wish to learn more about law and counter-terrorism. For more info, click here.
International Lawyering in a Public Interest (8 - 12 July 2019)
Explore the challenges of public interest advocacy in international law and rethink what it means to practice public interest advocacy in the international system. During this summer programme, we bring together leading advocates, activists, academics and members of NGOs to discuss cutting-edge legal techniques. As a knowledge lawyer, you will need to launch and sustain practices of public advocacy with international law. In this summer course, you will learn to critically assess and challenge assumptions about the nature and limits of public interest advocacy under international law. How do you start up your practice in advocacy lawyering? How do you identify causes for advocacy? Where and how will you find funding? These and more topics will be part of our 2019 International Lawyering in a Public Interest Summer Programme in July. See last year's programme here.
Terrorism, Countering Terrorism and the Rule of Law  (26 - 30 August 2019)
From 26 – 30 August 2019, ICCT and T.M.C. Asser Instituut in The Hague will host the ninth Advanced summer programme on terrorism, counter-terrorism and the rule of law. During an intensive week, experts, academics and practitioners will explore international and domestic legal aspects of counter-terrorism. You will get the chance to have a unique and in-depth look at the challenges that come with adopting and implementing counter-terrorism measures, while ensuring respect for human rights, fundamental freedoms and the rule of law. Our renowned summer programme will bring you lectures by top speakers in the field, interactive sessions, study visits, group discussions (Chatham House Rules) and panel presentations on current topics. Key topics are: the latest developments in the legal aspects of terrorism & counter-terrorism, administrative and security measures, domestic and international law dilemmas, use of intelligence evidence in counter-terrorism cases, prosecutorial challenges and impact of counter-terrorism on human rights. Have a look at last year's programme. For more information or to register click here.
Two programmes at a discount
Prior to this summer programme, you have the opportunity to enrol in a complementary summer programme that focuses on preventing violent extremism. This programme is organised by the Centre for Professional Learning of Leiden University and ICCT. Contact Contact learning@fgga.leidenuniv.nl, if you wish to register for a combined discount package.
Disarmament and non-proliferation of weapons of mass destruction (30 September - 04 October 2019)
From 30 September - 4 October 2019, the OPCW and T.M.C. Asser Instituut in The Hague will host the tenth Training programme on disarmament and non-proliferation of weapons of mass destruction. During this intensive week, you will get a comprehensive overview of non-proliferation and disarmament efforts regarding Weapons of Mass Destruction. A group of highly experienced and internationally renowned experts and diplomats in the fields of international law, security and related disciplines will give you interactive lectures and panels, a simulation exercise on export controls, and accompany you on field visits to the OPCW Headquarters and Laboratory as well as to a nuclear research reactor.
This training programme is designed for early- to mid-career professionals working for governments, for example national export control bodies, national authorities for the implementation of WMD-related treaties and agreements and national nuclear agencies. Individuals working for non-governmental organisations or think tanks addressing WMD issues and research centres in related disciplines can apply as well. For more information, click here. For inquiries and registration, please contact educationtraining@asser.nl
Sign up now, and join us to experience, engage & explore
Experience the practicalities of international law during programme-related study visits
Engage with top-level speakers and participants from diverse professional backgrounds (i.e. academics, diplomats, lawyers, policy-makers etc.)
Explore The Hague - the City of Peace and Justice.
Study International Law in the Legal Capital of the World - The Hague
More Information
Education & Training:
+31 (0)70 342 03 19
educationtraining@asser.nl