[Interview] Researcher Sofia Stolk: "We should never stop asking questions, and art can be a way to do that"
Published 4 October 2021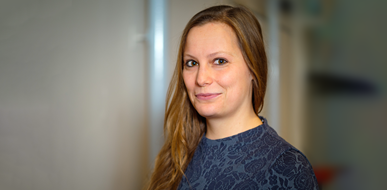 Art and international law, it does seem an uneasy combination – international law being strict, rigid, and all about the application of the rules, and art which tends to bend and question those very same rules. But researcher Sofia Stolk thrives in this no man's land: "We should look beyond the narrow focus on judgments or the law itself. I think there is an added value in taking seriously different views on justice."
Where did your fascination with art and international law come from?
Both of my parents are artists so I grew up in an environment in which art, theatre and literature was part of our daily life. For me, art in its many different forms is intertwined with how we see and understand the world. I started my university career doing linguistics, before I focused on international law and human rights. Since 2011, I have worked on the intersection of film and human rights at the Movies that Matter Foundation. These aspects of language and culture continue to appear in my work. So my research at the Asser Instituut is a natural continuation of my interest in language, theatre, art and law.
At the moment, I am working on a research project called Visualising International Law. In this project I investigate how visuals matter in international law and international institutions. How do institutions use visuals?  And the other way around - how are these institutions portrayed by others, such as for example artists? This encounter between the institutions and their intended publics interests me. I like how art is a mediator in this interaction, and how it can be a tool to both criticize international law or to strengthen it.
What kind of societal and academic impact are you aiming for?
For me what is important is the interdisciplinary component in international law. What I like to do is to follow my curiosity and let the world surprise me. And international law has surprised me from the moment that I started engaging with it. I am quite critical of international criminal law and in particular its institutions.
We should look beyond the narrow focus on judgments or the law itself. I think there is an added value in taking seriously different views on justice. We should also look at the promises that international criminal law is making and, and maybe not living up to – what are the expectations that are created? Is international law for everyone? We should continue asking these questions, and art can be a way to do that. I'm interested in this, but also in empowering people to voice their concerns or their views.
I'm interested in playing with different ways of seeing, in looking at one's own practice through a new lens, changing perspectives.
What do you consider to be the best thing about working at the Asser Institute?
For me, it's the diversity of projects that we have here. I have colleagues working on counter-terrorism, private international law, EU external relations, and also a lot of other things that I don't know anything about. This means I can learn a lot from my colleagues, and I find the connections between the different types of work that we do really rewarding.
What has been your proudest moment as a researcher and your most challenging moment?
People always say it is challenging to do interdisciplinary research. For me, that has always felt natural, but it can make you feel like you do not really belong. For example, I learn a lot from my colleagues, but it can also make me feel like I do not know enough. These are two sides of the same coin. It's a challenge, but it also keeps you sharp.
My proudest moment? What I find really rewarding is collective projects. I just finished a book project International Law: Collected Stories. It was so nice to engage with all of the writers. Another example is the project Brutal International Law we did at the former American Embassy in the Hague, which is now an exhibition space. Before it reopened, we visited the building with a group lawyers and artists. Then we wrote essays and made artworks about the building, that was really special.
If you were to offer advice to young academics wishing to enter your field, what would it be?
I'll come back to what I said earlier- follow your curiosity and don't be afraid to ask questions. If you feel uncomfortable somewhere, if you do not understand something, that is good. You have to keep asking the questions and remain critical of institutions that you want to be part of. Never stop asking questions about what it is that you do and why you do it.
This is hard because law is a discipline where there are so many unwritten rules, and you will want to fit in and follow those. Well, I like people who don't really fit in. [laughs]
About Sofia Stolk
Sofia Stolk joined the Asser Institute in 2017. She is part of the Dispute Settlement and Adjudication strand.
Interview by Zofia Kostrzewa.