[Blog post] Enforcing sanctions violations to fund the reconstruction of Ukraine
Published 14 June 2023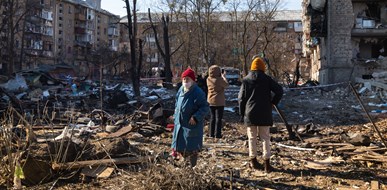 In a new blog post for EJIL:Talk!, James Patrick Sexton (Asser Institute), and his co-author David Kinnecome (UpRights), explore recent efforts to secure funds for the reconstruction of Ukraine. The authors argue that allocating funds gathered through enforcing sanctions violations to assist victims and rebuild Ukraine could be an effective and legally compliant approach.
In March of this year, the World Bank estimated that Ukraine's reconstruction and recovery would cost at least $411 billion. Considering the ongoing hostilities in Ukraine, including the recent destruction of the Nova Kakhova dam, this figure will continue to increase. In order to record the damage, loss, and injury caused by the war, a new international Register of Damage will be established in The Hague, likely followed by a Compensation Mechanism. However, these institutions will have high running costs and will require funds to compensate victims. As the Russian Federation is currently unlikely to meet these costs, and there are significant legal and policy issues with seizing Russian assets frozen by sanctions, alternative approaches are necessary.
Enforcing sanctions violations: A viable approach?
In their blog post, Sexton and Kinnecome examine developments in the U.S. and the European Union regarding sanctions violations. The authors firstly analyse the prosecution in the U.S. of Mr. Konstantin Malofeyev, a Russian oligarch, for violating sanctions made in response to the Russian Federation's invasion of Ukraine. Afterwards, they assess the current proposal to make the violation of EU sanctions an "EU Crime". Using these developments as a basis, Sexton and Kinnecome argue that EU Member States should consider using funds gained from enforcing sanctions violations for assisting Ukraine's reconstruction, as recently done by the U.S.
Respect for international law
Sexton and Kinnecome further argue that sending funds to Ukraine following the enforcement of sanctions violations should only be done if the underlying sanctions comply with international law and that the due process rights of affected individuals are respected. Although the Russian Federation has blatantly violated international law during its invasion of Ukraine, the EU and U.S. must continue to respect their legal obligations as they respond. 
Read the full post.
Read more
In a 2022 research paper, Victoria Kerr and James Patrick Sexton conclude that 'Magnitsky sanctions regimes' - in which governments target people suspected of human rights violations and abuses - are failing to achieve their aims. Read more.
About James Patrick Sexton
James Patrick Sexton is a junior researcher in public international law at the T.M.C. Asser Instituut within the research strand: 'In the Public Interest: Accountability of the State and the Prosecution of Crimes'. James contributes to several projects in the context of the Global Counterterrorism Forum (GCTF), namely the Maritime Security and Terrorist Travel, Watchlisting, and Racially or Ethnically Motivated Violent Extremism Initiatives. James' primary research interests lie within the law of armed conflict, international criminal law, unilateral sanctions, and the (international) legal aspects of countering terrorism, particularly racially or ethnically motivated violent extremism.