Asser Institute participates in the closing plenary of ASIL's 112th Annual Meeting
Published 20 April 2018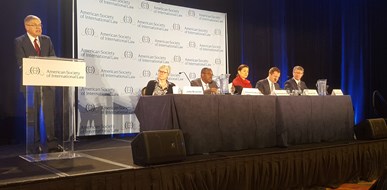 The Asser Institute and the City of The Hague have together presented the closing plenary of the American Society of International Law's 2018 Annual Meeting in Washington D.C. on 7 April in Washington D.C.
This year's Annual Meeting theme was International Law in Practice, and the closing plenary addressed The Future of Multilateralism.
The round table discussion for the plenary was introduced by the president of the Asser Institute and former Minister of Justice Ernst Hirsch Ballin, and ended with a closing speech from the mayor of The Hague Pauline Krikke.  
This plenary looked at the modern history of multilateralism to assess its future brought together leading experts to address the effectiveness and utility of multilateral institutions and approaches, and the prospects for their renewal."
The discussion was moderated by Jean-Marc Thouvenin, Secretary General of The Hague Academy of International Law. Other speakers at the round table included: Jutta Brunnée, Metcalf Chair in Environmental Law at the University of Toronto and recipient of the ASIL Certificate of Merit for her recent book (with Daniel Bodansky and Lavanya Rajamani) on International Climate Change Law; Edward Kwakwa, Senior Director, Department for Traditional Knowledge and Global Challenges, World Intellectual Property Organization (WIPO); Steven Hill, Legal Advisor and Director of the Office of Legal Affairs at NATO; and Gabriela Ramos, OECD Chief of Staff and Sherpa to the G20.
Watch full video of the closing plenary here.