[Opening Academic Year] Sharing ideas to help shape a post-COVID world
Published 31 August 2021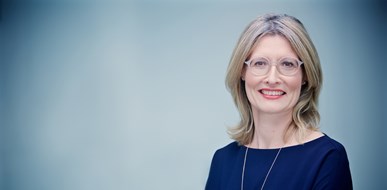 On these last days of August, I would like to extend my best wishes for the new academic year. I sincerely hope you had some time to slow down and managed to turn away from the 'life of Zoom' that characterised our last academic year.
In this new academic year, we are looking forward to gradually open-up for hybrid and in-person events and educational programs. In the past months, we have newly equipped our building and conference facilities for a safe return. We cannot wait to meet you, our colleagues, fellow-researchers, students, practitioners and policymakers in The Hague again.
When we reconnected our screens after the holidays, the monumental problems of our world were right in our face again. In the past weeks, we have witnessed the heart-breaking crisis in Afghanistan, where the overthrowing of the government by the Taliban challenges the international community to find responses that serve peace and justice for the Afghan people.
And amidst a summer of extremes, with floods, heat and fires, the IPPC published its existentially alarming report, which shows that climate change is widespread, rapid and intensifying. Unless we immediately manage a serious and large-scale reduction of greenhouse gas emissions, limiting global warming to 1.5°C or even 2°C, will be beyond reach. A recent proposal to include ecocide as an international crime in the Rome Statute - alongside crimes against humanity, war crimes, acts of aggression and genocide - has thankfully focused the debate; we would be delighted to receive your input in our open call for papers on ecocide and domestic and international law.
Making the world more just
As a knowledge institute based in The Hague - a place where international and European law is developed, applied and contested on a daily basis - we consider it our mission to help develop law and policy solutions that make the world we live in more just for everyone. In the coming academic year, we will continue to work hard to contribute to the development of legal and policy ideas to help shape a post-COVID world. In order to reach this post-COVID world, justice (and intelligence) demands solidarity from the Global North with the Global South in the sharing of vaccines. In October, you are welcome to join us for our 'Imagining solidarity in international and regional law' conference, with renowned academics and legal scholars from a multiplicity of research fields. The keynote speakers are Prof. E. Sharpston (former Advocate General of the CJEU) and Prof. D. Tladi (Professor of International Law, University of Pretoria).
Later this year, we will launch our new research strategy on questions around public interest in international and EU law. Having an acute awareness of the public interest to us means more than looking at legal compliance, or at process and procedure as its outcome. We believe it is important to look at ethics and governance, fairness, integrity, accountability, transparency and justice as well. Our team at the Asser Institute also studies the role of international and European law itself, and what effects these laws have on the world we live in. We ask ourselves how law can serve public interests, public values or climate justice, and where its limits lie.
Endowed chair Arms Control Law
I am pleased to announce that the University of Amsterdam appointed Prof. Dr Thilo Marauhn as professor in the Law of Arms Control. The chair was established on behalf of the T.M.C. Asser Institute and with the support of the Ministry of Foreign Affairs to the Netherlands.
Arms control law, which concerns international law agreements in the field of arms control and the monitoring of compliance with these agreements, is a technically highly specialised area of law, and it is vital for national and international security. With the appointment of Marauhn, this academic knowledge will be retained in the Netherlands. Marauhn, a widely recognised International law expert will conduct his research in The Hague, the city of Peace and Justice, and the décor of the Hague conferences of 1899 and 1907, which dealt with, among other things, arms control. Today, the Organization for the Prohibition of Chemical Weapons (OPCW), our partner in our annual course on Disarmament & non-proliferation of Weapons of Mass Destruction, is located at just a stone's throw from our institute.
New faces on board
I am also happy to announce that three new colleagues have joined the Asser Institute. Dr Carl Lewis is a new researcher in our research strand on Dispute settlement and adjudication in international and European law.  Post-doc researcher Dr Tomasz Zureck, and Marie Skłodowska-Curie Fellow Magda Pacholska have joined our DILEMA project on law and military Artificial Intelligence (AI). The goal of this project is to ensure that military AI technology is, by design, in line with ethics and international law. You can still register for the event 'Artificial Intelligence: the new frontier of business and human rights', in which keynote speaker Lorna McGregor (Essex Law School) will focus on the human rights responsibility of private corporations that produce, sell and use AI technologies, as well as the responsibility of states in regulating private actors in order to safeguard human rights. 
In October, we will start in a three-year research project on memory laws, called 'Memocracy'. It is a cooperation between the University of Cologne, the University of Copenhagen, the Polish Academy of Sciences, and the Asser Institute/UvA. The project addresses the contemporary European culture war that has been provoked by the proliferation of memory laws and policies in Central and Eastern Europe. The term 'memocracy', coined for the project, means 'ruling on the basis of memory'. In 2022, we will be able to hire a post-doc researcher on this project. 
The EU's credibility
In our Global Europe-project, we look at how the EU portrays itself as a normative power, committed to values, to international law, democracy, human rights and multilateralism. However, its success and the realisation of its Green Deal for instance, will depend on the EU's credibility and the extent to which it can generate support for- and trust in its role as a leading normative power. I am delighted to announce that in November, Professor Brigid Laffan, an internationally recognised expert on the European Union, will deliver the 2021 Annual T.M.C. Asser Lecture, in which she will analyse the challenges facing Europe in a world of geopolitical shift and shock.
In December, we will organise a workshop on 'Legal Method, Methodology and Critique in the Digital Era'. It is the closing workshop of last year's hugely popular series on Method, Methodology and Critique in International Law, which drew hundreds of attendees from all over the globe. Centre-stage will be the work of young researchers who explore new avenues for critical, interdisciplinary research in international law.
We need rigorous thinkers, young and old, as the problems of our times also need intellectual breakthroughs and an ability to see situations in a new way. Although I am an academic with a great passion for fact-based knowledge, I can see wisdom in the words of psychologist Edward de Bono, who once said: 'Our ability to perceive or think differently is more important than the knowledge gained'.
With these words, I wish you a creative academic year, full of wisdom.
Prof. Dr Janne Nijman
Chairperson of the Executive Board and Academic Director