[Blog post] The European Union's sanctioning of Russian military officers: an urge for caution
Published 9 August 2022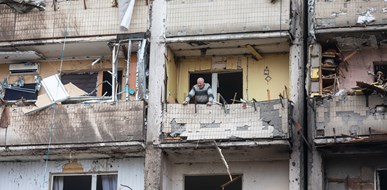 James Patrick Sexton, junior researcher at the Asser Institute, recently published a blog post, 'The European Union's Sanctioning of Russian Military Officers: An Urge for Caution', where he examines the European Union's (EU) two most recent rounds of sanctions taken against the Russian Federation.
In his analysis for the blog of the European Journal of International Law (EJIL:Talk!) Sexton addresses the international legal implications of the EU's sanctioning of certain Russian military officers – many of whom are sanctioned on the basis of (alleged) responsibility for international crimes in Ukraine.
Sanctions in accordance with international law
He argues that while sanctions remain an essential part of the EU's response to the Russian Federation's war of aggression against Ukraine, they must remain in accordance with international law. Furthermore, he urges consideration of the long-term impact that asserting the criminal responsibility of many of those sanctioned has on the EU's support for accountability in Ukraine, the right to a fair trial and due process, and the integrity of international criminal law.
The post builds upon a paper that Sexton co-authored with Victoria Kerr, Associate Fellow at the Asser Institute, entitled 'Human Rights and Security: Unpacking the Elusive Nature of Magnitsky Sanctions' (publication forthcoming) which they presented at the European Society of International Law's Research Forum on 'International Law and Global Security: Regulating an Illusion?' at the University of Glasgow in March of this year.
Read Sexton's detailed analysis here.
About James Patrick Sexton
James Patrick Sexton is a junior researcher in the Asser research strand 'In the public interest: accountability of the state and prosecution of crimes'. This research strand examines i) the accountability of states – individually and collectively (for instance at the level of the United Nations or the European Union) – in light of public interest standards in the context of counter-terrorism; and ii) the prosecution of individuals for international and transnational crimes in the public interest. Moreover, to ensure both the accountability of the state and the prosecution of individuals, this strand will also investigate iii) the role of journalists, the (new) media, human rights NGOs and academics in protecting and promoting public interest standards

James Patrick Sexton LL.M.