Repatriate and prosecute foreign terrorist fighters
Published 12 June 2020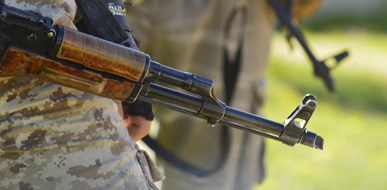 On Tuesday, Asser senior researcher Dr Christophe Paulussen took part in the ICCT Live Briefing 'The Repatriation of Foreign Terrorist Fighters and Their Families: Why Not?'. In the briefing, Paulussen argued that repatriation and prosecution is the right thing to do from an international legal, long-term security and moral perspective.
His arguments build on earlier publications such as this ICCT Perspective he co-authored with ICCT Fellow Tanya Mehra. Paulussen admitted that repatriation and subsequent prosecution have their own challenges, but positive developments can be discerned in this context. One positive development is to not only prosecute for membership of a terrorist organisation, but to focus on the actual (international) crimes committed as well, such as war crimes, crimes against humanity and genocide. Eurojust's EU Genocide Network discussed such 'cumulative prosecution' during a meeting in November 2019, during which Paulussen, alongside other panelists, briefed national prosecutors about the possibilities international humanitarian law can offer. This briefing built on this earlier publication and led to this new ICCT Perspective, as well as this Eurojust publication.
In the media
On Wednesday, Syria Direct interviewed Paulussen on the issue of cumulative prosecution, in which he argued that cumulative prosecution will lead to a "more complete picture of the suspect's criminal responsibility. Because of that, it will also lead to a more tailored, and usually longer, punishment." The interview can be found here.
Dr Christophe Paulussen is a senior researcher and coordinator of Asser's research strand Human Dignity and Human Security in International and European Law which adopts as its normative framework a human rights approach to contemporary global challenges, inter alia in the fields of counter-terrorism, especially with regard to the topic of foreign (terrorist) fighters, international and transnational crimes, new technologies and artificial intelligence, and historical memory.