[Interview] Tarik Gherbaoui: 'With my research I aim to reach the decision-makers in the field of counter-terrorism'
Published 5 July 2023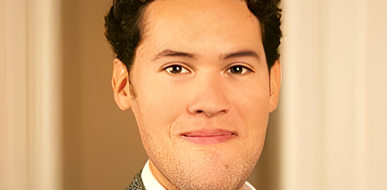 Tarik Gherbaoui is a researcher at the T.M.C. Asser Instituut, where he contributes to several projects in the context of the Institute's work for the Global Counterterrorism Forum (GCTF) including on maritime security and terrorist travel, counterterrorist watchlisting, and countering the terrorist misuse of Unmanned Aerial Systems (UAS). He is also one of the coordinators and speakers for our upcoming Advanced summer programme on terrorism, counter-terrorism and the rule of law, jointly organised with the International Centre for Counter-Terrorism. 'It is my ambition to increase public understanding of why the rule of law and human rights are an essential part of counterterrorism efforts.' An interview.
What is the research project you are working on?
'I am working on a book based on my PhD thesis which I wrote at the European University Institute (EUI) in Florence and defended back in 2021. The book zooms in on responses to foreign fighters who travelled to the armed conflict in Syria and Iraq. It assesses a wide range of legal responses to the foreign fighter conundrum at the international, European, and domestic level through the lens of the rule of law and human rights. I particularly delved into the interplay between various legal responses at these different levels and the ways how international legal instruments adopted by the UN, the EU, the Council of Europe have affected domestic responses (and occasionally vice versa) by states such as the UK and the Netherlands.
In addition to my forthcoming book, I am also working on a research project on international efforts to counter terrorist content in the digital realm. Innovative and far-reaching laws and policies such as the 2021 EU Regulation on terrorist content online, the EU Digital Services Act, and the Online Safety Bill in the United Kingdom pose challenges that are unique to the digital environment, perhaps most prominently in the area of freedom of expression. A first step in this research project is a forthcoming article that I wrote together with Professor Martin Scheinin, who was my PhD supervisor or as the Germans and Austrians would say Doktorvater. In this piece we look into the dual challenge that online terrorist content poses to human rights law: On the one hand, terrorist content that is left unaddressed could lead to an increase in terrorist attacks, which may result in human rights violations, first and foremost the right to life. On the other hand, legislation that aims to tackle terrorist content entails a risk of affecting a much wider range of speech acts and causing a chilling effect on freedom of expression. In particular we look at the extraordinary role that tech companies, i.e. private entities, play in enforcing transnational policies that are intended to protect the public interest.
What is the goal of your research?
'It is my ambition to increase public understanding of why the rule of law and human rights are such an essential part of counter-terrorism efforts. It seems that there are many practitioners, law enforcement officials, and policymakers who work on counter-terrorism but may sometimes find it hard to access academic expertise in the field. With my research I aim to reach the decision-makers in the field. The Asser Institute is such an outstanding place for this type of research, as the Institute has always worked in close contact with policymakers and legal practitioners in The Hague and far beyond. Our Advanced summer programme on terrorism, counter-terrorism, and the rule of law is a good example of this close contact. It is a real pleasure to discuss the latest trends and developments in the field of counter-terrorism and counter-extremism with an experienced and diverse group of engaged participants and with world-class lecturers from both academia and practice. Working at the Asser Institute helps me to further disseminate my scholarship and to ensure it has impact both in the academic world and beyond.'
Why did you decide to study international and European law?
'I think that my decision to specialise in international law, was to a large extent influenced by my international upbringing, and the international outlook on life that I developed because of it. I was born in Amsterdam but I'm partly of Algerian descent. After finishing secondary school in the Netherlands, I went on to live in Rome and learned Italian. I also did an Erasmus exchange in Copenhagen and spent time in Salamanca, Spain to learn Spanish to travel throughout Latin America. International law was by far my favourite module during my undergraduate studies at the University of Amsterdam. I continued my  studies reading for a Master of Laws degree at Cambridge, which is a fantastic place to study international law. Although I also enjoyed delving into Dutch law as an undergraduate, I have always kept an eye on the wider world and found international problems both fascinating and complex.'
Could you tell us about your work prior to joining the Asser Instituut?
'Before I joined Asser, I wrote my PhD at the European University Institute (EUI) in Florence which was a beautiful and exciting experience. While writing up my thesis, I participated in the excellent 're:constitution' fellowship programme of the Forum Transregionale Studien in Berlin, which enabled me to do research in Vienna and London on citizenship deprivation in the counterterrorism context. Before I went to the EUI, I worked short stints in diplomacy at the Dutch Embassy to Serbia and to Montenegro and at the European External Action Service (EEAS) in Brussels and also did several internships with international commercial law firm. My very first professional experience in the world of international law was with a Defence Team at the International Criminal Tribunal for the former Yugoslavia in The Hague, a stone's throw away from the Asser Institute.'
What is your advice to young academics or legal scholars who want to go into this field?
'In my experience, excellent writing skills are still very much appreciated in the world of international law and diplomacy. Many people have multiple degrees from good universities nowadays and speak several languages fluently. Yet solid legal writing skills are a prerequisite for a successful career in either international legal academia or international institutions. Even if the English language, or some form of global English, 'Globish', has become essential in any international professional environment, international organisations and international courts still very much value languages other than English. Most jobs in Brussels require French. Knowledge of French, Spanish, Arabic, or Russian is often essential to work in the field for international organisations such as the UN and the OSCE. With so many online learning tools available, I would encourage people starting out in the field to develop their language skills, and in particular writing skills, wherever possible.'
Interested in counter-terrorism and the rule of law?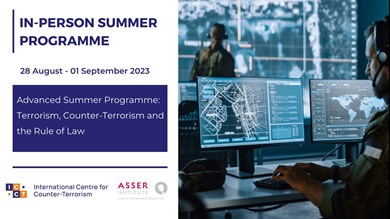 In this thought-provoking summer programme, you will focus on the international and domestic legal aspects of countering terrorism and violent extremism, in inspiring and interactive classes by leading academics and practitioners in the field. Read more.