[ASIL 2023] Pursuing global accountability for atrocity crimes: Needs, challenges and the path forward
Published 30 March 2023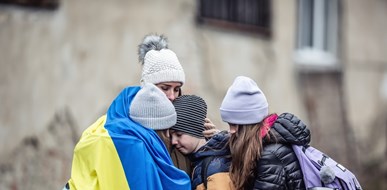 On Friday March 31, Christophe Paulussen, senior researcher and strand coordinator at the Asser Institute, will convene the closing plenary of the 2023 annual meeting of the American Society of International Law (ASIL) in Washington, United States. This prestigious society aims to foster the study of international law and to promote the establishment and maintenance of international relations based on law and justice.
The closing plenary, sponsored by the Municipality of The Hague, is one of the highlights of ASIL's annual meeting. This year's closing plenary will focus on accountability for atrocity crimes, and is entitled: 'Pursuing global accountability for atrocity crimes: Needs, challenges and the path forward'.
Background
Russian aggression against Ukraine commenced in 2014 and escalated to full-on war in February 2022. This manifest violation of the UN Charter and the casual disdain with which Russia undermined the international legal order led some to wonder whether international law should be pronounced dead.
However, a contrary argument has emerged: the rapid mobilisation and use of international law in the context of the war in Ukraine has been hailed, in the words of Dr Gabija Grigaite Daugirde, the vice-minister at the Ministry of Justice of the Republic of Lithuania, as international law's 'renaissance'.
At the same time, some have criticised what they perceive as a disproportionate focus on the situation in Ukraine, selectivity, and the lack of attention to other conflicts. This panel will address these fundamental questions and explore specific situations around the world in which atrocities, crimes and other serious human rights violations have taken place to identify the needs, challenges, and path forward to accountability.
Opening remarks
Mariëlle Vavier (The Hague Municipality)
Panellists
Ivana Hrdličková (Judicial Academy, Czech Republic, former Special Tribunal for Lebanon)
Susana SáCouto (War Crimes Research Office, American University Washington College of Law
Beth Van Schaack (U.S. Ambassador-at-Large for Global Criminal Justice
David Vaughn (USAID/Ukraine Justice for All Activity)
Moderator
Christophe Paulussen (T.M.C. Asser Instituut)
Hague Closing Reception & Plenary
When: Friday March 31, 2023
Time: 6:00 PM-7:30 PM ET
Where: National Press Club
529 14th Street NW, Washington, DC 20045
United States