Monkey Code wins Asser Institute land grabbing challenge at the Hackathon for Peace, Justice and Security
Published 18 November 2018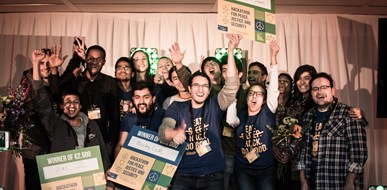 The team "Monkey Code" has won the first prize for the Asser Institute's land grabbing challenge at the 'Hackathon for Peace, Justice and Security' last weekend in The Hague. The group developed an open source solution that combines satellite data with social media data in order to map out vulnerable areas for land grabbing.
During the 'Hackathon for Peace, Justice and Security', 27 teams comprised of over 125 participants competed for finding innovative data solutions for various challenges. The Asser Institute provided a challenge on land grabbing, in which participants were invited to build a tool that identifies patterns of past land grabs to mark areas that are vulnerable to future land grabs and provide them with a risk rating. Asser researchers and Oane Visser (Institute of Social Studies) coached the participating teams.
Bargaining power
Land grabbing denotes the acquisition of land by corporations or governments under conditions of uneven bargaining power and has become problematic as it can leave affected communities hungry, homeless and with very little recourse. The jury chose Monkey Code as the winner because they creatively used social media data as part of their tool. Monkey Code, which is affiliated with CGI Netherlands, won a cash prize of € 10,000.
The Hackathon is the first project of the Data Science Initiative, an initiative of tech entrepreneurs, universities, government and knowledge institutions in The Hague that are committed to peace, justice and security through big data and Artificial Intelligence. The Asser Institute is one of the co-organisers.
Law & Technology
Under its umbrella project Law & Technology, the Asser Institute promotes research on technology and international law. A new upcoming event is the Winter Academy on Artificial Intelligence and International Law.