The renovated Asser Institute building officially open
Published 4 September 2019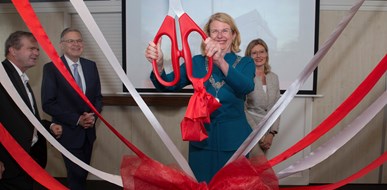 On Thursday September 5th, the Asser Institute officially re-opened its doors after two intensive years of eco-friendly and sustainable renovations. We welcomed staff, neighbours and friends of the Asser Institute to join us for a festive afternoon at our premises.
After bearing through with us during the intensive construction period, neighbours and Asser staff toured the renovated building. Highlight of the afternoon was the cutting of a symbolic ribbon with a giant pair of scissors by Pauline Krikke, the mayor of The Hague who joined us together with Saskia Bruines, deputy mayor and The Hague's alderman for education, knowledge economy and international affairs. After speeches by Asser president Ernst Hirsch Ballin and Asser academic director Janne Nijman, Mrs. Krikke congratulated the Asser staff with our renewed headquarters, adding that the municipality of The Hague and the Asser Institute are natural partners.
Eco-friendly reconstruction
The Asser building was renovated with recycled and eco-friendly building materials, FSC labelled wood. A new, isolated roof was added and we had solar panels installed. To further reduce our footprint, we switched to LED lighting, replaced the windows with double-glazed windows and had the exterior of the building isolated. To help increase biodiversity, the garden has been replanted with plants that attract butterflies and bees.
Generating new ideas to help cultivate trust
Our mission at T.M.C. Asser Instituut is to further the development of international and European law to help cultivate trust in society, at the local, national and global level.
With our academic and policy oriented research, we are generating new ideas to positively influence people's lives and the real (legal) world. We actively share our knowledge, through publications, legal courses, and many free events.
As the academic director Janne E. Nijman of the Asser Institute says: "Every day, in the 'city of peace and justice', the staff of the Asser Institute works towards a more peaceful, safe and just world. The Hague is the perfect place for that. With all its courts, tribunals, international organisations, embassies and academic institutions, this city 'breathes' the relevance of international law." 
We would like to thank all our guests for sharing this special afternoon with us.