[Inter-university programme] 'The most important investment the STL could have made in promoting justice, accountability and the rule of law in Lebanon'
Published 7 April 2021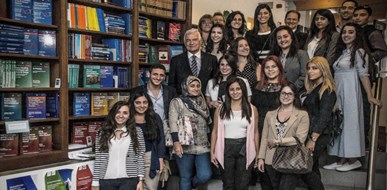 The inter-university programme, co-organised by the Asser Institute and the International & Transitional Justice Resource Center (ITJRC), offers Lebanese students from eleven universities the opportunity to learn about international criminal law and procedure from renowned experts. The IUP's creator, Olga Kavran, calls it 'the most important investment the Special Tribunal for Lebanon could have made in promoting justice, accountability and the rule of law in Lebanon'. Watch our new video to learn more about the programme.



Background
The first lecture in the inter-university programme took place in November 2011. The project was set up by the T.M.C. Asser Instituut and the Outreach and Legacy Section of the Special Tribunal for Lebanon (STL). There was no specialisation in international criminal law offered at any Lebanese university prior to that time. The programme was the first of its kind, and unprecedented in the Middle East and North Africa region. For nearly ten years the STL supported this unique programme. In December 2020 the programme was handed over to the Asser Institute and the ITJRC, which was established by a group of professors and lecturers involved in the inter-university programme.
Impact
Since the start of the programme, more than 1200 students have graduated. In 2019 alone, over 450 students enrolled and attended the course. Alumni have gone on to pursue careers in international criminal law, including as teachers and university professors. Moreover, this unprecedented cooperation has resulted in a number of bilateral and multilateral projects.
Learn more about the inter-university programme here.
More information
For more information on the inter-university programme, please contact Dr Christophe Paulussen, senior researcher at the T.M.C. Asser Instituut, research fellow at the International Centre for Counter-Terrorism - The Hague, and academic programme coordinator IHL/ICL.