New 'Global Europe' project launched
Published 23 May 2019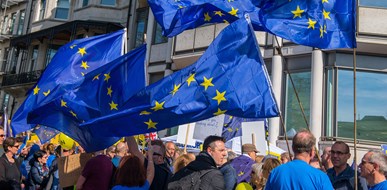 Democracy, rule of law, and multilateralism are values the European Union seeks to embody and promote. But how well does it do so in a global arena? Asser's new project 'Global Europe', launched today, focuses on the EU's trustworthiness as an international legal actor.
With the European Parliament elections taking place, much of the debates have concentrated on questioning the role of the EU in the world. The Union as a global actor has consistently portrayed itself as a normative power committed to the principles of international law, democracy, human rights, and multilateralism. But the success of these efforts depends on how credible the EU is seen when advocating for such principles. However, credibility and mutual trust seem to be at stake across the world.
"It is not easy to promote multilateral cooperation today, when the EU's biggest western ally, the US, does just the opposite," says Dr Narin Idriz, researcher in Asser's new project 'Global Europe'. "Similarly, the current internal problems such as the EU's inability to deal with domestic rule of law issues, rising populism and Brexit, also weaken the hand of the EU."
Europe as a global legal actor
As outlined by Dr Idriz, the EU's global ambitions are not only political, but also stem from important legal considerations. Idriz: "The Lisbon Treaty is very explicit on the requirements EU external action needs to live up to (for example Article 3(5) and 21 TEU). The most important are promoting multilateralism and its values, namely democracy, rule of law, and respect for human rights." Against this background and challenges facing the EU, Idriz highlights the urgency of a project like 'Global Europe': "This is a particularly interesting time to study the EU to understand how it tries to tackle internal and external challenges it faces, while trying to advance its ambitions in the world."
Global Europe's blog post
As part of the launch of the project, 'Global Europe's' team is sharing their very first blog post, dedicated to the topic of the European Parliament (EP) and its role in the external EU migration politics. As outlined by Dr Idriz in the blog post, "EU's citizens' expectations of the European Parliament are as high as ever. While we expect the national governments to do whatever it takes to win the next election, the expectation with the EP is that it has a longer-term and broader vision as a transnational institution, which at least to some extent, acts outside the constraints of national politics."
The 'Global Europe' project is part of a broader research strand of 'Advancing Public Interests in International and European Law' of the T.M.C. Asser Instituut.
Explore the 'Global Europe' project and its research agenda in our website.