[Updated programme] The art and international law laboratory: experiences of justice
Published 27 September 2021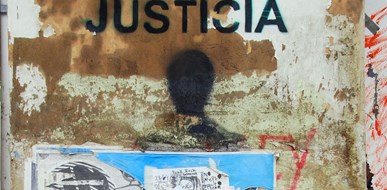 How can legal professionals use art to identify and overcome legal, ethical, and social challenges? Four artists from various disciplines will offer a fresh and inspiring perspective on safeguarding the dignity, safety and well-being of participants in legal processes.
In this unique masterclass, we will discuss how insights from the arts can help channel empathy and the expression of emotion, thus empowering people from diverse backgrounds and privileges. The aim is to discover how to use artistic tools to improve the experiences of justice. In three consequent workshops, you will experiment collaboratively with artistic tools, under the guidance of professional artists from various disciplines. This Masterclass will feature researcher Sofia Stolk, curator Lua Vollaard, filmmaker Eliane Esther Bots, writer Meenakshi Thirukode and artist Jules Sievert Rochielle.
The two-day programme will challenge you to view your work from the perspective of the people involved in (international) trials and procedures. You will experience the view of interpreters, the view of people from various cultural and political backgrounds and the view of victims of human rights violations. Your experience will help discover new ways of empowering these people, and will add a new layer to your work as a legal professional.
More information and programme: https://www.asser.nl/education-events/events/?id=4178
Date: 21 – 22 October 2021
Fee: € 995,- € 495,-(Students and NGO-workers)
Venue: T.M.C. Asser Instituut, The Hague